Like 2020 this was a low key break with lots of R&R time except for Monday since we had a long travel Day from coming off our first plane trip in over a year, skiing in CO with the Requena-Comfort's on Monday. We made it home not long before midnight Monday night. Needless to say, Tuesday morning we all slept in a little (even our early riser, Leia). Mommy and daddy had to work on Tuesday too so the girlies entertained themselves at the house and horse back riding was cancelled for spring break. We did have a movie night that evening but did not leave the house that day so it was a pajama day. Wednesday morning the adults had to work again so the little ladies chilled out in the morning but the three Comfort ladies headed to Mimi's just after lunch Wednesday to ride the golf cart and enjoy sweet time with Mimi as we had a girls spend the night party. Thursday, we hung out at Mimi's and the Rhoads' ladies came to visit too. We headed home that afternoon once the storms passed. Sara and Katie came to hang out a little longer at our house then Mark picked them up just before dinner. That evening we chilled out with Chris and had another family movie night. Friday, Chris and Lisa were back at work but we loaded up to head to Newnan just after lunch for fun weekend there. It was not a spring break full of excitement and on the go but it was one where we all caught up from the vacation the week before, spent time together in the evenings, and reenergized to finish the school year off strong.
There were not a lot of pictures taken the week of Spring Break since most of it was spent at home with R&R and pajamas time but we did snap a couple pictures in the golf cart and at Mimi's Wednesday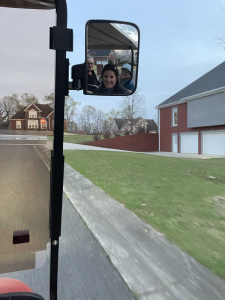 Morning snuggles and sweet time together is the best!