At the beginning for June we e looked over the calendar and realized summer break only has about 10 weeks. Time flies so we are savoring the time together. We plan to make the most of these few weeks before school starts again! Creating wonderful memories that will last a lifetime with our little girls, family, and friends. The beginning of June was optimistic that we would have daily fun and give daily synopsis on the blog but then life happens. While we did have daily fun we got in the moments and the phone was not picked up to snap the picture and freeze it in time so everything is not here but what is here will remind the girls of some of the fun we had and a few of the memories we made when they go back through our books and that is what it is all about.
The first two weeks of June it was detailed then it teetered off ….
Tuesday morning, the girls were excited Deedee and Grandpa was here when they woke. Leia was awake at 5:50 and came to snuggle with mommy (love these moments!). Sweet Ivy slept in till 7:10. Leia requested Hardee's biscuit so that is what she got. Grandpa and Deedee left just after breakfast was finished. The girls asked to chill at home for a little bit that morning then Mimi came over mid-morning. We sat outside visiting and pushing the girls on the tree swing a little while before Mimi took the girls to get shoes for summer camp. We picked up Sara and Katie after lunch to go to the movies to see "Boss Baby". Everyone enjoyed the movie then we decided to go swim at Mimi's since the sun had come out and it was warming up. Mimi and Lisa blew up the inflatable slide Mimi had gotten and the girls had a blast breaking it in. We ended up having dinner there before heading home since it was getting late when the girls got out of the pool and they wanted to get in the 'hot tub' before they left. (Ivy has renamed Mimi's bathtub to 'hot tub' when she gets out of the pool and is cold).
Silly String fun at home


Movie time …. good movie for adults and kids


The girls wanted to pose after the show with the big shark


Mimi and Lisa got the slide out


The fun began

Wednesday morning was was much like Tuesday. The girls both were up early and came in to snuggle in mommy's bed and watch a show. These are the moments that are momma wants to hold onto and is so grateful to be able to work part-time so she can enjoy them more often. We had a lazy morning at home until Lisa finally convinced the little monkeys to get out of the house. Sara and Katie had spent the night at Mimi's so of course Leia and Ivy opted to go there to swim instead of McWane, Chuck-e-Cheese, or anywhere else. They do love there cousins! The girls played in and out of the pool all afternoon. They were going to spend the night with Mimi but ended up going to the Rhoads for a spend the night party since Chris had gone out of town and Lisa had to leave early the next day driving to Mississippi.
Snuggling to get warm before going in to the 'hot tub'


The girls liked having a spend the night party together

Thursday was the first day since school got out that Lisa had to go to work/drive to a plant and back for mandatory meeting. It was sad not getting the morning snuggles but it makes the mornings when she is able to get them even sweeter. The girls were going to spend the night with Mimi but Stacy pulled strings and got her into a doctor in record speed so they stayed with their cousins and Uncle Mark stayed home that morning with the fabulous four until Mimi and Stacy got back from the doctor. They said the Leia and Katie got up at 6 but the other two slept in. Of course Leia and Katie headed straight to the Barbies when they woke. The girlies requested donuts for breakfast then played at the house most the morning until Mimi and aunt Stacy took them to the Library to sign up for book club then to Moe's for lunch. Chris got back earlier than expected so Mimi ran them by home to chill with daddy until mommy got home. That evening the girls had a dance party to celebrate mommy and daddy coming home. Love celebrating life with them!
Psalm 118:21 "I will give you thanks, for you answered me"
From the Rhoad's blog:
We had a scare and I must admit I was very anxious to get results after finding a mass on Mimi's chest. A morning spent running tests and waiting for exam and results left (us) so thankful my God heard (our) prayer and all is benign! The afternoon (we) spent reflecting on gratitude, prayer and spending quality time with (those you love).
Library fun! Leia told Lisa multiple times she wanted to go sign up for the reading program since they talked about it at school. Thankful Mimi was willing to take them while Lisa and Chris was working. Think they had a good time. They signed up, ate kona ice, and got several coupons for things around town.


Our greeter at the door. The party was a PJ party and she helped mommy find PJs so needed to wear one of mommy's nightgowns too


Our hosts for the evening

Friday was a snuggle morning with the girls and chill at the house watching "A Mermaid Tale" and play time. Thankful for the sweet morning together getting to enjoy precious time with the our girls. Everyday, we are trying to do at least one productive thing this summer so our productivity for the day was purging Ivy's closest. Midday, we headed to McWane for a little educational fun. Of course, we needed to celebrate national donut day so we grabbed a dozen from Donut Joe's and celebrated it with Mimi and Grandpa Al after we had all the fun we could stand at McWane. The girls opted to stay at Mimi's that evening to have a spend the night party with their cousins. Mimi said they swam, played cards, watched a movie, crafted, and had trash popcorn … perfect kind of night for the girls. Chris and Lisa were able to enjoy another date night, walk, and snuggle watching TV… wonderful date night.
Fun at McWane's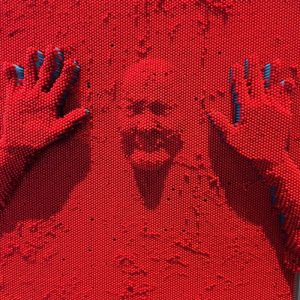 We celebrated national donut day with Mimi and Mr Al


Spend the night party at Mimi's house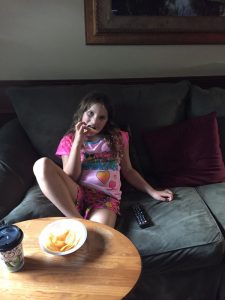 Saturday, the girlies all woke up super early then they went to Donut Joe's for breakfast followed by fun in the pool, scooters, and playing outside. We got there about lunch time and watched them swim a little while before heading home to get ready for Leia's friend, Eliza's birthday party. Lisa took Leia to a paint party. They all seemed to have a great time! Chris and Ivy ran errands to prep for a evening since we invited neighbors over for dinner and fun.
Good morning from Mimi's girls


Yum yum breakfast with Mimi


Morning of fun, The girls were not ready to go home but we had too since we had plans all afternoon


Eliza's painting party


Fun with neighbors and friends at our house

Sunday we had a morning at home snuggling, playing prodigy, legos, and more. After we ate lunch we headed to Mimi's for a afternoon swimming before the rain came in for the afternoon. It was a great day full of precious family time.
Leia teaching Ivy prodigy and putting her Elsa lego castle together
Both the girls loved getting to do math game together


Leia got upset because she dropped her castle as we were leaving the house so mommy cheered her up after we got to Mimi's


Ivy told daddy they had to jump in at the same time even though he tried to stall and get out of it at first, she eventually won and they jumped in together


It was not long before mommy and Leia joined them in the semi-cool water for a little fun


Both girlies dove to the bottom of the pool to get a ring


Playing in the rain

Monday the girls got to go to their first day of VBS this year. Ivy said she was a little nervous and Leia was excited to go. Uncle Mark took them since he volunteered to do one morning and Chris volunteered to do Wednesday since Lisa and Stacy both worked those days. Ivy had a friend from gymnastics, Harper in her class. Leia had a friend from the birthday party yesterday named Rachel. Sara had a couple friends in her but sweet Katie did not know anyone; thankfully she is good at making friends. All the girls said they had fun at VBS and were ready to go back on Tuesday. Their afternoon was great too! Mimi took them to the mall for lunch and a little shopping fun. They all picked out a outfit and necklace then got a cookie and icy for treat before heading back to our house to play and watch TV. They had a great day and looking forward to going back to VBS.
Lunch at the mall with Mimi


Treats at the mall


Fun at the mall, shopping, and entertaining in their new outfits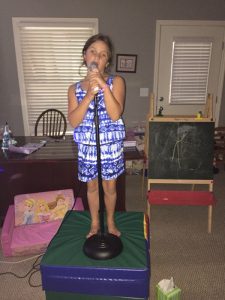 The second week of June was VBS all week 9-12. Sara and Katie got to come over for breakfast Tuesday since Lisa took the girlies and was keeping them afterwards too. It was a rainy day so we headed back to our house afterwards for a afternoon of fun. Everyone picked what they wanted for lunch then the girls played prodigy for a little education fun and headed downstairs for playtime. Mid-afternoon Ivy came up so Lisa and Ivy need up baking brownies for everyone before we all went to the craft room to sew phone cases and a lovey blanket. Fun day with the girls!
VBS fun


Educational and lunch time fun


Sweet Ivy cooked brownies while the others used their imaginations


Sewing with mommy/aunt Lisa


Sweet girls in the evening still wanting to play together after a full day of play
Blessed they love each other so much!

Wednesday, Lisa had to work so Chris took the 4 girlies to VBS and Mimi picked them up. Of course they had a blast. Mimi took them out to lunch and ended up spending a couple hours with them playing at Chickfila. That evening was the family night at VBS so as soon as Lisa was off work we headed back up to go on a spy mission (Chris and Mark met us there). Lisa was in rare form and got us lost with the help of Leia and Katie in the church. It was a fun evening though full of laughter. Wish we had got to see our Tio Diego today though to give him birthday hugs and celebrate with him. We did try to face-time with him that evening to wish him a happy birthday but he could not hear us since he was out celebrating at a Braves game but we do hope you had a wonderful birthday and send our love.
Lunch with Mimi


Family night at VBS. They served hotdogs and hamburgers. Then we got to go worship God together with the songs the girls had been learning that week. Plus, Leia got to see a friend named Abigail from her class. Fun night 🙂

Thursday, both Lisa and Stacy were off. The girls went to VBS while Lisa went home to clean. That afternoon Lisa and the girls ran errands. Thankful they were patient cause we had a lot of places to go. That evening we went out for Mark's 38th birthday. Mimi Rhoads came in town to celebrate too. We enjoyed a new family favorite spot at Twisted Roots before going back to their house for cake and presents.
Leia showing us karate at VBS and Ivy on beam at gymnastics.


Girls went shopping for birthday gifts before finding a baby to play with at the restaurant for Mark's birthday dinner


Girls with the card we made him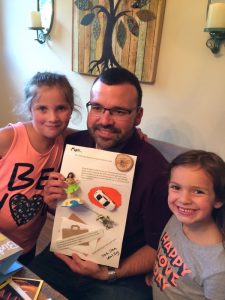 Friday, was the last day at VBS. Lisa picked up the girls and we went to a family lunch with Chris since he was leaving for Hungry. We pray for a safe trip and that he has fun! After lunch the girls and Lisa headed home to do a lemonade stand. The girls made $12.50 at the stand. That evening we headed to Mimi's for dinner, a night time swim, and to spend the night.
Last day of VBS and lemonade stand in the front yard before heading to Mimi's for dinner and to spend the night

Saturday morning Lisa went and got Nana to have breakfast with us. As soon as the girls were done with breakfast they headed down to the pool to start swimming. Mid-morning they did help decorate for Katie's pool party but hopped right back in the pool after they placed the balloons and helped hang the signs. Sara, Katie, and friends finally arrived about noon for the party to begin. After all her friends left Mimi gave the girlies a summer surprise …. mermaid tales. The girls swam in them well into the evening so we ended up staying for dinner before heading home. It was sweet falling asleep holding Leia's hand and Ivy holding my face – moments I will treasure even if they forget them.
Breakfast at Mimi's, always nice to sit out on the porch with loved ones


Katie's party was a splash of fun!


Sweet Ivy loves her baby cousin Zoe


Our sweet girls! Ivy was cold so needed Mimi to to feed her like a little baby.


The girls surprise from Mimi


They love swimming with their mermaid tails!


Uncle Mark caught a mermaid and sweet Ivy was done after getting caught under a float

Sunday morning, Lisa and the girls slept in then laid in bed snuggling watching a show. Although Lisa could not tell you what we watched as she laid amazed at how blessed we are to have two sweet, beautiful little girls. We stayed there till well after 8 when the girls finally got hungry. We are not sure what we did that morning but when Lisa told them they better get ready for church and looked at the clock we realized church started 15 minutes earlier so missed it but did enjoy the morning together. We headed back out to Mimi's to swim with our mermaid tails. Sara and Katie joined us that afternoon and the 4 monkeys mastered swimming in the tales. That evening we went to Cantina before heading home to start summer camp.
Monday, the girls were excited to start summer camp. Lisa had to work so took them to Stacy's early so she could get into the office. The girls said they had a blast! Mimi picked them up but apparently got there too early because they were still in their tracks. ;). The girls went home with Mimi to spend the night since Tuesday Lisa had to leave extra early to go to MPC for a meeting.
Tuesday, Lisa drove for 10.5 hours for a 1.5 hour meeting while the girls had fun with Mimi. They started their day at Chickfila because they told Mimi we "never take them there" – the quote from the girls is obviously made up cause we go there a lot. After breakfast they went to get donuts then back to Mimi's to burn some of the sugar and energy from all the food off. Katie opted to go to swim and grill hotdogs at Mimi's for her birthday lunch so they were able to celebrate with her most the day. Lisa finally made it home about 7:15 and got the comfort girls and Sara to spend the night at our house. We all ended up in Lisa's bed.
Morning selfies with Mimi. Thankful she is willing and able to watch them whenever we need it


Breakfast at Chickfila because the girls say we never let them eat there. Afterwards they talked Mimi into Donut Joes


Having fun burning off the sugar and from the second breakfast


They got to spend some time with Katie on her real birthday and give her, her presents. Can't believe she's 8. With each birthday we are reminded how quick time is flying

Wednesday Deedee texted to say she and aunt Joy won the Peacock Tournament they play in together every year. After the celebration lunch she flew home and we decided to follow her that evening to be able to wake up there like the girls requested when Lisa picked them up from camp. We arrived pretty late and Ivy requested to be taken straight to bed but they both were excited to wake up there. Thursday, we woke up and the girls started playing right after breakfast. They love the toy closet there and act like it is their house. Mid morning daddy face-timed us so we gave Grandpa his father's day gift before heading to Alicia's to wish her a happy birthday. We got to play there for a little while then went to lunch with Kelly, Diego and the kids before Lisa took the 4 monkeys and met Grandpa and Deedee at the bowling ally to play in the arcade then back to their house for a little more play time before Alicia's party started. Ivy also, lost her second tooth on Alicia's birthday at Grandpa and Deedee's house so she was excited.
Deedee and aunt Joy won the Peacock Tournament they played in

Sweet angels sleeping with mommy at Deedee and Grandpa's since daddy was still on his trip


Always fun to craft with Deedee


Giving Grandpa his father's day present


Fun time with Adrian and Alicia before they head to Spain for a year (or two)


The girls wanted to play on the park for 3 minutes before they went to the pool for Alicia's party.


Lisa pulled Ivy's tooth so she could lose one at Grandpa and Deedee's like Alicia


Good night snuggles before night night time are always sweet

Ivy woke during the night to check on her tooth and was excited to see the tooth fairy had left her two dollars. She continued to follow sister's example and shared a dollar with Leia. So thankful for their generous hearts! As soon as breakfast was over we loaded the car to go get Adrian and Alicia for a fun filled day at White Water. this time Lisa remembered her waterproof case so we could get a few pictures :). Thank you Grandpa and Deedee for taking us; it was a blast! After a week away Chris was flying home that afternoon. He said it'd be nice to have a hour or two to get unpacked, showered, and rest before we got home so we left in time to give him about a hour and a half. However, the drive took twice as long to drive home so he had almost four hours. Lisa was not in the best of moods when we arrived but was thankful to have Chris home and that the girls were sweethearts in the car despite the longer drive than expected. Blessed to have our family all under one roof again!
The Tooth Fairy came to visit Ivy

Lots of fun at White Waters!
Thankful for the overcast morning that left the park with a smaller crowd but it was a little chilly for a June morning; of course by that afternoon the sun came out and it warmed up and felt great. Ivy was a little skittish to go down any bigger slides than what was in the kids area but the other girls slid down a few. Adrian and Grandpa did lots of big slides. Thankful we got to have a fun day with them before they left for Spain this year.


As a little girl, Lisa remembers playing under the waterfall with Mimi and Papa. Love this area at the park and the sweet memories it brings back.


Fun in the wave pool!


Treat time …. the snow cone Leia got was as big as her head. She shared with everyone though

Father's day weekend we spent a lot of time in the pool and just spending time with our daddy especially since he had been gone all week. We missed him big time! Saturday he got to see the girls in action with their new tails then that evening we took him to Sticks for dinner for a early father's day dinner. Sunday, we woke up and made chocolate chip pancakes per his request before going to church. Chris's name was drawn for steaks so Ivy was super pumped to get to go up and get his certificate for them. We went to Mimi's for lunch to celebrate and play in the pool. That evening we chilled at home, face-timed Grandpa to tell him happy father's day, and face-timed Diego and family to say happy father's day and wish them a fun, safe trip to Spain. Grateful for weekends when the calendar is not packed and we just get to savor time together.
Daddy caught a mermaid


Fun time in the pool and Chris gave Sara and Katie their surprise from his trip … a globe from Paris


Father's day breakfast. Ivy insisted everyone needed a candle to celebrate too so everyone got to make a wish before the girls gave Chris his father's day gifts.


Nana giving Chris love on father's day.


Sending balloons to Papa in Heaven on Father's Day. Miss you always, daddy. Reminds me to treasure the time we have with everyone we love, tell them and show them you love them because we never know when we won't be able to again

Mid-June we ordered the girls a cooking package since they are all into cooking to teach them to follow recipes then they can venture off to try new recipes on their own. They loved getting the first package in the mail and said the burgers they made were the best burgers they'd ever eaten. I believe in a weeks time they cooked them twice for us. Love, love, love that they are enjoying cooking and we get to make memories in the kitchen together.
They were all about cooking. Although Leia talked Ivy into rolling the burgers and patting them out while she mixed the spices. Lisa did as little as possible during their cooking experiment so they can learn how do everything on their own, although mommy did most of the clean up this time.


They even used the stove top to cook them theirselves

Miscellaneous June days happen where we just enjoyed sweet time together. Many days we did not grab the camera to freeze the moments and just lived in the moment together but these are the pictures we have from the rest of June. Each picture has a small caption of what we remember as we were looking at the pictures. Love how they bring back thoughts and excitement in the girls voices when we look and talk about them for the blog.
Leia has been giving art lessons to Ivy. One evening Chris took Ivy to the store so she gave mommy a art lessen and Lisa made this for Leia. It was fun listening to her instruction then to be given free time to do what I wanted to do. Kids need the free time just as much as adults do and love teaching adults stuff too. We try to remember that in our house.

The girls were invited to Kinley and Tyler's birthday party. It was a mini reunion from VLC. The girls had a great time with them and a couple other friends they had not saw in a while. We ended up staying longer than we planned but they were having such a good time Lisa did not want to pull them away.


From Kinley party we headed to Bentley's. Traffic came to a standstill though on the way so we arrived at the very end of the party but at least got to give Bentley his birthday present before he had to head to his dirt bike race. Little Ivy was happy she got to hold baby Zoe and the girls were able to get in the splash pad before we headed to Mimi's to swim and grill out that evening but we were sad we did not get to visit with everyone like we'd hoped.


Chris enjoys his father's day present even though when we first gave it to him he looked at us like we were nuts. It works great though! Thankful he is willing to let his three favorite girls use it too.


Sweet Ivy asked if she could vacuum. Of course the answer was YES! Maybe she and Leia will both like to clean the floors when they get older too.


We have a little friends that comes and swings. The girls have not saw him swinging in person since he normally comes not long after they walk in from playing. Ivy told Lisa she needs to quietly come in to get them next time, not sure that is possible but we did grab a picture to show them and will try too.


Ivy wanted to stay to watch Leia do gymnastics during a makeup gymnastic class. Ivy had hers the day before but Leia wanted to go home to chilll a little since we have to head straight there from camp. Love their different personalities and how much fun they have even sitting waiting on each other.


Leia picked out a rock to find gems in from the store. Thankful she shared it with her sister. It made a big mess on the porch for 8 to 10 little gems but it kept the girls entertained for a hour or two and they were so excited when they found one as they chiseled the rock away


Sweet summer time fun with neighbors playing in the rain and the hose


Ivy asked why we don't take pictures of them sleeping since she wanted to see herself sleeping. I told her we can so a couple nights we snapped them as we prayed over them and included them in the blog to remind us of the curiosity and questions are good; if we ask for what we want sometimes we get it but we have to communicate our desires. God continue protecting them, give them health, and guide each of them throughout their life. May their first love be you, God.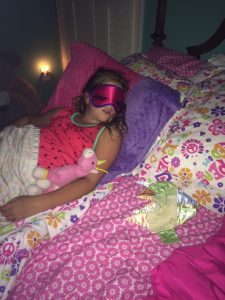 Our real estate agent that we bought this house with invited us bowling for a client appreciation event. Of course Chris won on our lane but we all had fun!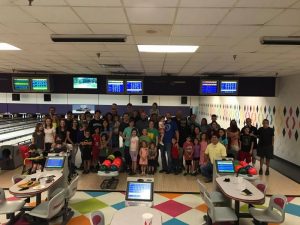 The last day of June the girls stayed home from camp and we decided to have a fun day so we pulled out the-dye kits aunt Kelly gave the girls for Christmas. Yes it took us 6 months to do them but the girls had a blast! Thankful we had a table cloth and disposable pans to help with the mess. There are not many pictures of the process since Lisa did a shirt too and was trying to contain the mess to the table so we did not stain the floor but think this will be a activity we will have to do again. These were the only pictures we got cause when we went downstairs to play camp out, legos, and make pretend fun we did not have the camera just us and our imaginations. Leia and Ivy have GREAT imaginations!! It is a joy to get to see them in action.
So much fun!


The results
Ivy's on top, Leia's on bottom, and mommy's two on right.

That afternoon Mimi came over to our house. We had a late lunch then played outside before the girls headed to get Sara and Katie from camp and to spend the night with Mimi. Mimi sent a few pictures from their fun girls night. Thankful they get to have these memories together while mommy and daddy were able to go on a date night together.
Fun in the pool


Not sure what they are discussing but love the sitting arrangements