Love, love, love that the girls had a week out of school and we got to spend the week together. Friday, Ivy got to have a pajama day at school 🙂 She has been looking forward to learning about the letter P all year to get her PJ day and it was a great way to kick off spring break! Lisa got to help fill in at bible club at Leia's school that afternoon and when we walked out it was the start to our spring break. Yippee! We started spring break off playing with cousins Sara and Katie then going to dinner with Mimi, Mr Al, and the Rhoads before we went to the soccer field to cheer Katie and uncle Mark on that evening. What a great way to kick off the start of our spring break.
Saturday, we spent the whole day at home since we were heading out of town Sunday for a few days. The perfect kind of day for Chris and his mini me, Leia! The weather man said storms were suppose to come in midday so we decided to spend the morning outside but they held off till late afternoon so the girls played outside most the day and avoided helping clean or straighten the house. Our neighbors were having trees trimmed and were outside so we did walk over to ask, Emma and Maddie to come over to play too. The girls had a blast playing, using their imaginations, and ended up having a picnic lunch. Emma and Maddie were heading home as Mrs Janet and Morgan arrived. The three munchkins played a little while together then Leia broke off to play prodigy while ivy and Morgan continued playing until they had to go home to take dinner to Mr Bobby. Since we played all day we had a quick dinner, bath, packed our bags to get ready for our trip the next day, and hopped in the bed to be rested up for a fun trip.
Sunday morning, we woke up to pack the car and met the Rhoads at Panera to head to Chattanooga for a couple nights. (Side note Lisa arrived before Stacy; she no longer can say Lisa's always late.) After a short little drive we checked into the hotel then headed to Sara's favorite pizza place, Lupis. To our surprise Ivy liked it (she is not normally a fan of pizza). Next stop on the Rhoads agenda was the moon pie store (we questioned if they ate their way through a vacation but this stop was for a t-shirt). Chris bought a couple shirts too. After that the boys went to put the luggage in our rooms while Lisa and Stacy took the littles to the river front to play at the park to get a little bit of energy out. Katie's first request was to swim and of course Leia and Ivy echoed her. Since we could get in our rooms and our bags we headed back to get changed for the pool. Thankfully Chris volunteered to take Leia, Ivy, and Katie to the indoor pool wile the rest of us went walking in the art district, Coolidge Park, and bridge. Only bad part, no pictures of the fun in the pool; guess he was too busy playing ;). On our walk Sara ran into a classmate so she enjoyed talking to her and running up and down steps. She did great keeping up or leading the way and even got to ride the carousal (not sure how I missed pictures of that). One the way back across the bridge and Sara said her feet hurt so we took turns giving her a piggy back rides back to the hotel. Sara wanted to swim some too so she and Ivy hung out in the pool while the other two went to get changed. After the mermaids were ready to dry off we headed back to the river front. The girls tried card-boarding down a hill and got it to work a couple times but the ground was damp so didn't work as well as last visit (sad sub this was one of the things they were looking forward too the most). They did have fun playing on the park, attempting to card-board, and exploring the docks before Chris and Mark went to grab dinner and we headed back to the hotel to eat a late dinner by the fire pit then we called it a night.
We are off


Arrived in Chattanooga


Walking around town while Chris watched the girlies swim


Sweet Sara was on the walk with us but started to tucker towards the end so she piggy-back jumped between us


Girls love the pool and hot tub


Fun by the river, card-boarding, and park


Dinner by the fire-pit

Monday morning we leisurely got up and moving (it may have been because most of the group did not sleep that great but …). We met downstairs for breakfast before heading to Rock City and Ruby Falls for the morning. All four girls said Rock City was their favorite because there was more to see than at Ruby Falls. We got to see seven states from one point, amazing rocks, walk on a suspended bridge, explore tight squeezes and tunnels at Rock City. We headed straight from there to Ruby Falls where we road a 30 second elevator ride down 266ft then walked the remaining way to see a 145 foot high underground waterfall that was located approximately 1.120 feet below ground. Thankfully, we didn't have to crawl through the tunnels like the founder of the Falls, Leo Lambert did for 17 hours to reach the falls and get back out; it only took us about an hour to hour and half to see the waterfall and get back out. After our adventures our bellies were yelling it was hungry. After much debate we landed at a yummy Mexican place named Taco Mamacita. At least the adults thought it was yummy, the kids just ate chips and mandarins oranges. We walked back to the hotel from there to work off some of the food but made a ice cream treat stop on the way before everyone headed to the indoor pool for family fun poll time. Thankfully we were indoors when the rain that kept threatening the whole trip started. During the small rain break that evening Lisa and Stacy took the girls out shopping and grabbed dinner on the way back to eat at the hotel to keep us out of the band of storms passing over that evening. Plus, we figured some little girls maybe crashing early after going nonstop all day hiking and walking exploring the city but we may have been wrong on that asumption.
Chilling on the balcony looking at the river. Love the carpe diem morning

First stop after breakfast was Rock City


Through tight squeezes and high peaks these four are fabulous


Chris and Mark had their comedian hats on


Love getting to raise sisters with a sister


How cool!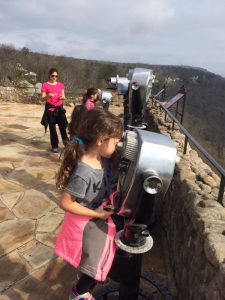 Thankful for little places to take breaks


Hope these girls have a fabulous trip


Having a sister is always a blessing!


Our song men holding up the rocks for us

These monkeys are growing so fast!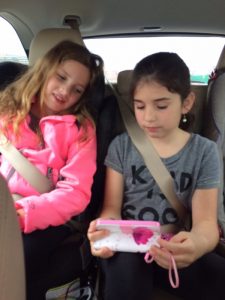 Making a wish on the way into Ruby Falls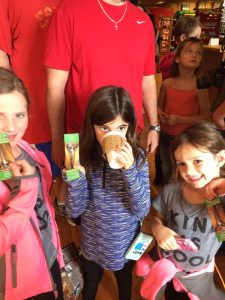 Love this man! He can always make me laugh


Ruby named the formations and there were surprisingly realistic


The fall was very impressive and beautiful

We all went walking across the Walnut Street Bridge. The girlies just wanted to get back to go swimming though

Tuesday, despite the fact we did not sleep much that night the Comforts were all awake up by 7 EST ready to see what the day had in store. The Rhoads slept a little e longer so we headed down to get breakfast a little before them but the girls kept a eye out and were ready to see their cousins. Of course after breakfast the girls all wanted to go swim one more time before we left. Uncle Mark took the girls to the pool while Chris walked with Lisa to get coffee, and Stacy gathered there stuff to head home then joined Mark at the pool. After a hour or so we got our little mermaids out of the pool to get showers to head home. In true Dobbs fashion, we unpacked and washed clothes right away then headed to the movies to see "Beauty and the Beast" with the Rhoads, Mimi, and Mr Al. None of us had mush protein on Tuesday so after the movie we went to Twisted Root for protein. Mimi packed up the grand-mobile to head home with four little princesses for a spend the nightparty since it was the only night during spring break they will be able too. Lisa and Chris chilled at home for the evening and enjoyed some needed R&R in hopes we both slept better in our own bed.
One last swim before we left.


Thankful Mark and Stacy let us walk to get coffee


When we returned some of the mermaids were laying out frying their tails

Backing up to head home


Entertaining ourself in the lobby while daddy got the car


Movie time with the family


Dinner at Twisted Root with a few of our favorites

Fun times spending the night with Mimi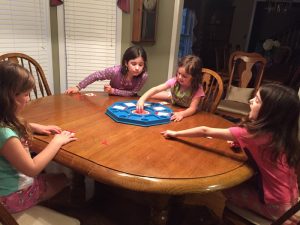 Wednesday morning, both Lisa and Chris worked from him a little while. Thankful the girls were at Mimi's and able to have fun with her while we were boring old people or taking car of business ;). Mimi said that Leia and Katie woke at 6:05 (love that she gave them the extra 5 minutes), Ivy at 7, and Sara at 7:30. They had their "breakfast buffet" then played a little bit at Mimi's house before heading out to grab Lisa and Stacy for a girls day. Mimi gave the littles their pick so they voted in a 3 to 1 vote to go to Let's Play. Leia and Ivy wanted to run around and play but Sara and Katie were more interested in finding babies to play with and be big helpers. We spent almost 2 hours there before the mommies had enough and voted to go to the next place on the agenda. Sara requested Carrabba's so we ran by Chickfila to grab Leia and Ivy their pick then went there for lunch before walking across the parking lot for a little pampering pedicure. We ran by Costco really quickly to grab a couple things before treat time at Brusters (the girls did not even ask, it was Mimi's suggestion; she spoils them just a little). We hung out at the Rhoads the remaining afternoon letting the girls play and visiting before heading home for dinner, baths, and down time for the evening.
Sweet Sara slept in while the others started playing and getting snuggle time with Mimi. A loud game of uno woke the sleeping beauty so she joined in on the fun too

Oh what fun at Let's Play


Lunch time with some of my favorite ladies


Time for pampering


Thank you for a great day Mimi! We hope you enjoy your trip to Texas tomorrow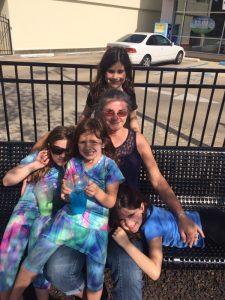 Fun afternoon at the Rhoads' house, plenty of laughs, and good times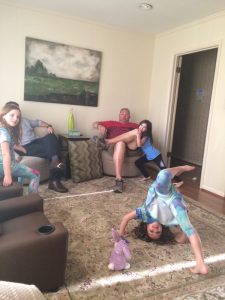 While mommy was in a bath the girlies put on a fashion show with mommy's shoes, jewelry and clothes

Thursday was a daddy daughter day since Mommy had to go to work. Everyone was piled in mommy and daddy's bed as Lisa headed out from getting dressed. She hated to leave but thankful daddy could stay home and she could save a vacation day. They had a leisure morning at home then picked up the house before heading out for a little fun. Daddy brought them to the Chickfila near the office so Lisa got to meet them; brightened the day. Afterwards Chris and the girls headed to Chuck-e-cheese for a little fun. They saw cousin Ava, Zoe, Lexi, aunt Stephanie, and uncle Alex there too. After they ran through their tokens the next stop on their agenda was to go pick up their toys the'd left at Mimi's house before going back home for they evening. Mommy was happy to get got home right before the rain and get some happy times with family. Daddy cooked breakfast for dinner while Lisa cleaned up the kitchen then we had dinner and family movie night to kick off our long weekend.
They made mommy's day meet mommy for lunch!


Fun times at Chuck-e-cheese with daddy and his little princesses

As the end of spring break was near we leisurely got up and moving to meet the Rhoads at Urban Jump for a morning of fun. There was a special for 2.5 hours of jump, water and dip and dots so we bought it and let the fun begin. Leia, Ivy, and Sara explored everything from the obstacle, foam pit, climbers, and trampolines. Katie explored a little but normally could be found playing dodge ball. What made the trip even more fun was that all 4 parents played too. We did not do as well as we liked at the obstacle courses but held our own with the kids. Lisa was happy on the trampolines that she still could flip; it impressed the kids too. After 2 hours of play the girls were ready for treat so we grabbed it then let them run back to play before our time was up and we headed home. After we ran a couple errands we merged back together and had dinner at the house while the kids played some more. Think they like being so close to each other and getting to play more often. We are blessed!
Ivy loves flipping and gymnastics so we went to Urban Jump for her to get energy out

Sleeping beauties slept in mommy and daddy's room.

Saturday, the girls played at the house while Lisa and Chris did yard work, cutting the grass for the first time since we moved into the house. Chris declared we needed a yard service after working a couple hours. After the yard looked decent we moved inside to start cleaning since we had let it go all week while we were home and we had friends coming over for dinner that night. The girls had a great time with Jenna and Abbey while Lisa and Chris enjoyed fellowship with David and Ashley. Blessed to have such sweet friends in our life.
Ivy waned to do selfies as we snuggled. Blessed to be her mommy


Family selfie

Left these two on electronics as we headed out to work in yard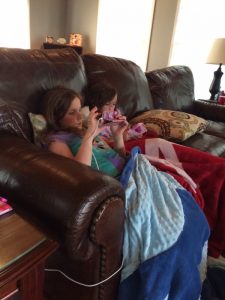 Dinner and play with sweet friends

The last day of our spring break arrived too soon! We skipped church and had a home morning to wrap up a great week! Mid afternoon the girls wanted to go shopping to get a build-a-bear so off to the Galleria. Leia ended up with a build-a-bear while Ivy got a TY Baby. These two love stuffed animals and we have a house full to to prove it. Thankful for the family time we received and looking forward to summer time even more now where theres a extended time of no school schedules or homework.