Friday night, was a low key. It was finally warm so mommy took the girls by Brusters for a treat on the way home from school then Ivy had a friend over but other than that we chilled out. Love the nights that we re-charge and are able to un-plug together.
Dinner time, only quick pic snapped for the day but we enjoyed Olivia visiting and getting to unplug

Saturday the girlies were back at the ranch after a little hiatus thanks to the rain and cold weather. The horses were struggling with the weather too. The ranch was down to 6 healthy horses for the day; unfortunately they had more riders than horses so Leia only rode 20 minutes but loved her great attitude. After riding we picked up the house a little then walked, relaxed, mommy visited Stacy/Mimi a little, girls played with neighbors then we call got ready for the evening. The girls headed to the Talley's to hang out with granny and ordered in chili's while we had an adult dinner and game night with the Talley's and Schlappi's. Great night that lasted till well after mid-night. Thankful for sweet neighbors and friends!

Pictures of the girls but not us on date night

Sunday morning, Grandpa and DD asked about coming to surprise the girlies for the day/night. they arrived shortly after nine with aunt Joy and Bento. The girlies were super excited to see them all! We went to Top Golf at 11 for a hour and half for a little fun then came home for Ivy to get ready for basketball practice. While Chris and Gene took Ivy the rest of us took Bento to walk at Starlake. It was nice getting out and moving. Since we had a big lunch at Top Golf we made Taco soup for dinner and before we knew it was time for bed since there was school on Monday. It was a quick trip but we enjoyed every minute!
Girls were super excited to see Bento!


Playing the crocodile game with DD and Grandpa


Fun at Top Golf


Chilling at home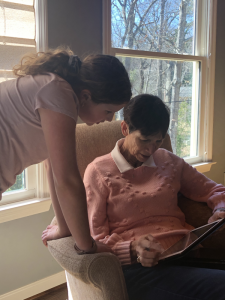 Like father, like son …. these two nap … wish I could and still sleep at night


Great day for the lake visit!