The day after Christmas Grandpa went and go donuts since the kids said it was tradition. Grandpa and Deedee headed home not long after breakfast while the girls played with their Christmas toys. Lisa and Chris started getting all the Christmas decorations down then went to help put Sara and Katie's trampoline together that Mimi gave them for Christmas. The kids got to play and adults got to visit after we got it together. As we were leaving the 4 munchkins asked if we could have a 2-on-2 spend the night so Leia stayed with Katie while Ivy and Sara came to our house for a spend the night party. Our energy balls did gymnastics and had a dance party while Lisa cooked pasta for dinner. After we ate the girls got baths then we watched Hallmark movies and snuggled in the bed as the girls drifted off to sleep.
Family time putting together Sara and Katie's trampoline Mimi got them for Christmas


The girls loved playing on it


That night we had a two on two spend the night party. Sara an Ivy came to our house and had dance party on the beanbags while they waited on dinner


After dinner we watched Hallmark. The girls started on the beanbags but ended up snuggling on the couch 🙂


Sweet girls fell asleep quickly after a fun day


Aunt Stacy sent a couple pictures from their spend the night fun too

Wednesday morning Lisa woke up and found Ivy laying in bed awake very sweetly not waking up Sara so we headed to the den for some sweet snuggle time. Sara woke up almost a hour later and joined us as we finished a show then they started playing while Lisa cooked breakfast. After breakfast it was more playtime for the girls, clean up the house for Lisa, and clean out the garage for Chris. Lisa did pause long enough to figure out the cotton candy making machine for the girls to have a sweet treat. Stacy dropped Leia and Katie off to run errands. Mimi came over that afternoon to bring the stuff we forgotten on Christmas Day and to go to the movies to see "The Greatest Showman". Mimi headed back home after the movie and Sara ended up coming back to our house for another spend the night party with us again.
Sara slept in longer than Ivy so mommy got some sweet snuggles then started cooking breakfast when Sara woke up while the girls stretched to start their day


They played and entertained themselves for a while then we started looking at figuring out how to make cotton candy. It took longer than it should had to get it started spot Ivy FaceTimed Alicia to entertain herself but the girlies said it tasted good once we figured it out


Having fun on the old trampoline


Sweet Sara helped make PBJs for Uncle C


Stacy dropped Katie and Ivy off to run errands and they all played. They asked Chris to help pop popcorn in Leia's new popper but left him afterwards but he was singing and having fun waiting on it to pop Then the other monkeys came running when he let everyone know it was popping


Mimi had texted that morning about taking the girlies to see "The Greatest Showman" so we went for a matinee. Katie had a playdate at a friends and Stacy wanted to finish up errands so they did not go but we enjoyed the show


We ran Sara home but Leia and Sara wanted another spend the night party so three of the monkeys spent the night at our house again. Blessed that they love spending time together like they do

Thursday, the 3 little monkeys were in the den watching TV when Lisa woke up. Lisa immediately started cooking breakfast since they said the y were all hungry. Sweet Ivy went to wake daddy when breakfast was done so we got to enjoy a nice meal together before the monkeys were off and playing. The morning flew by! Lisa took the girls to Mimi's for lunch and play while Chris went to the movie. We had planned on going ice skating at railroad park but it was so crowded when we to there we ended up just playing at the park for a little bit. Leia and Ivy went back home with Mimi that afternoon for Lisa and Chris to have a date night. Mimi took the girls to Chick-fil-a on the way home for Leia to use her gift card she won at school since it expired this week. They also went by to get a redox for a movie night.
Love family breakfast time


Sara was the gymnastics coach; these were the only pictures of morning playtime since mommy was trying to get things done


Ivy made mommy's heart burst with joy at the park! Mommy had to catch up when we were walking to the park and when she saw mommy a hundred yards behind the speed in which turned and ran towards mommy yelling for her and the hug …. best feeling ever!


The rolling terrace was a fun place to play too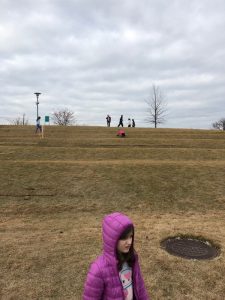 Our sweet girls had date with Mimi. Leia got to use her chickfila card she won at school.


Thankful for a date night and getting to spend this life together; there is no one else I'd rather spend it with


Sweet girls got to sleep in Mimi's bed with her
Friday our house was quite with the girlies at Mimi's house but Chris and Lisa missed the opportunity to sleep in despite the great opportunity. After a cup of coffee Chris had to take care of a couple things at work and Lisa headed out to Mimi's to hang out and pick up the girlies. When Lisa arrived she heard a fun game of hide-n-seek going on in the basement then the girlies hopped on their y-bikes for a spin before we headed upstairs to chill by the fire and warm up. Stacy, Sara, and Katie came as we were warming up and we all had lunch and finished watching Leap. Stacy had told Sara and Katie she would take them to the mall so Leia, Ivy, and Mimi joined them while Lisa went home to clean and see Chris. The girlies bought a few things each at the mall before Mimi took them to TCBY for a treat and movie night at Mimi's while Lisa and Chris got a second date night in a row.
Little blurry but morning snuggles are so sweet


The girls breakfast pick was Donut Joes


The girls had fun playing with with Mimi


The girlies were playing hide-n-seek in the basement with Mimi when mommy got there and riding their y-carts


Instead of coming home the girlies asked if they could go to the mall and spend the night with Mimi again since Sara and Katie were spending the night

Saturday morning the girls were excited to wake up at Mimi's again with their cousins this time. Mimi took breakfast orders and cooked while the monkeys played then they built forts before Mimi took the girls to Target to shop. Lisa and Stacy meet them there before heading back to Mim's house for lunch. Stacy and Mark headed to the outlets to exchange Christmas gifts while Lisa and Mimi went to take the girlies to Surge to let them get some of there energy out. They jumped, jousted, and played dodge ball or freeze ball with Mimi and aunt Lisa. After their hour was up Mimi took us home for our family date night to Texas De Brazil. While we were eating Chris came up with the idea of going to see the lights at Shaddrack since we ran out of time before Christmas. It ended up being a great idea since there was a lot less traffic and we got to take more time going through the lights. the girls loved that daddy let them drive while mommy loved snuggling with the non-driver. Afterwards we all snuggled in bed watching a movie. It was a great family date night!
First two monkeys awake


Yummy breakfast at Mimi's with cousins


Building forts are always fun


Our girls love selfies

Family date night, dinner at Texas De Brazil and Christmas lights at Shaddrack


Looking at the lights


Snuggling with mommy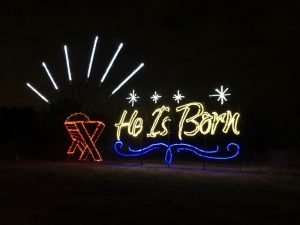 Driving with daddy


Love family date nights!

The end of 2017 is just a few hours away so we asked what was the absolute best or favorite thing that happened in 2017. Each persons personality in our family shined thorough in the answers. Leia said her favorite was all the holidays because she got to spend them all with family; she is a lot like her momma. Ivy said her favorite was today; she lives in the moment. Lisa said her favorite was all the moments spent with loved ones because people are what makes life worth living. Chris said his favorite was adding to the Gatlinburg tradition with more family from the Dobbs and Rhoads. Loved that we got to spend the last day in 2017 together with our little family. The Rhoads had plans in the evening but we got to visit Sara and Katie at their house for a hour or two at lunch before coming home to prepare dinner. Thankful for our daddy who grilled steak and lobster in the cold and that Mimi came to enjoying evening festivities with us. We ate a yummy dinner, played fun games, danced, laughed, and just enjoyed being together; a great way to end 2017.
Thankful to get to spend NYE night together


Yummy dinner


Fun times celebrating the end of 2017 with family

The aftermath of our poppers


The girls got to open new games for us to play


Enjoyed getting to play games and spend time together


The girls showed us how to use their hatchimals


We had fun with photo props


Dance Party


More popper fun!