Twenty four hours after we thought we would be heading to the airport we were finally on our way. Mimi dropped us off a little after 5am for our vacation to start. We paid for early bird check in but did not get it so we're thankful to get two sets of two seats together. Ivy wanted to sit with Chris and Leia with Lisa so it worked out. Apparently, Ivy was little miss talkative though and did not let Chris rest like she usually does while Leia entertained herself and Lisa rest for a few minutes.
We had scheduled to pick up the car at 2:30 when we were suppose to land but Chris had gotten us on a earlier flight so we were thankful to get a rental car when we arrived without delay. We did not luck out with the hotel and get a room right away but found Apres Burger Bistro for lunch to fill our bellies after flying all morning. Chris, nor Leia was impressed with there burger and the server was struggling getting our meal to us correctly. It had a 4.75 star review but think we would have given it 3. Afterwards, we picked up waters at the store then were able to head back to get our room.
These girlies were excited to walk on the snow at lunch and Ivy loved serving the water

Chris said he was exhausted when we arrived so he laid down while Lisa unpacked and the girls went between entertaining themselves with their iPads and helping Lisa. Once everything was put away and organized somewhat mommy asked the girls if they wanted to get their swimsuits and find the pool to give daddy a little more time to sleep. Of course, they were in on that plan and we headed to the pool/hot tub for an hour and a half. The time had come we needed to wake Chris up so we could make it to our appointment to pick up our ski rental.
View from our room


We entertained ourselves after we took the luggage up and unpacked


These girls love a pool!

The ski lodge is less than a mile from our hotel so only takes 3 minutes to get there. It was quite confusing getting to the rental place from where Chris dropped us off to go find a parking space. Thankfully Ivy spotted aunt Kelly and uncle Diego who just had finished skiing so they helped us find the correct location. They headed back to shower while we got our rentals so we could meet up later. It was quicker than we expected at the rental place so we got back to the hotel a few minutes after the Requena-Comfort's. We changed our dinner plans to go to a Mexican place do we could go earlier and have more flexibility and get walk around down town too.
The town is quaint and fun. Kelly put our name on the wait list at the restaurant so we could explore while we waited. We walked along the river and in a couple shops. There was a neat gallery with all types of horse statues and paintings which was right up our girl's alley. Kelly got a text it was time to sit so we headed back to Salt and Lime for some yummy food and the fellowship was even better. It was fabulous! It'd been a long travel day so we headed back to the room to call it a night and get ready for our lesson the next day.
Beautiful river near town to walk beside as we waited for dinner


These two showed us how to mount a horse while we were walking around town


Belated Birthday Dinner celebration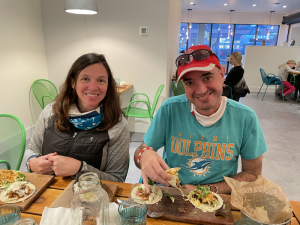 Friday we woke up and Chris said he was not feeling up to skiing so we had a girls day skiing. Leia started off strong. Ivy was a little out of control. Lisa remembered nothing from last year and almost wanted to throw in the towel; well she might have told the instructor to take the girls and she was going to take a break so … but after the girls did a run momma rejoined the group and we went to a easy green. It was much better than the magic carpet or bunny hill! So many people makes Lisa anxious and unable to ski or focus. We skied the lower preview, upper preview (X3), an unnamed trail, Kristy Peak Express, and Sitzback. Lisa knew when she had finished that she was done and told the girls they could go with Alicia and Adrian while she enjoyed the base of the mountain. However, by the time we got to the bottom of the last slope both girls were saying they were done too. We did run into their cousins though, got to say hi, and give them our locker we'd rented for the day as they were getting started skiing for the day/night and we were heading out.
Mommy got all three of our boots buckled and us to the meeting spot on time. By the time we met the instructor mom felt felt like she had already done a long workout #novicetoskiing


First lift of the day with Emma, our coach


She took us down a 3.5 mile green right before our time was up that proved challenging for us as we all three fell once on the run but it fun. There are very few pictures since mommy is not experienced at skiing and really was just trying to stay upright but we did get this one when we stopped to rest on the long run.


As we finished up with the instructor we saw the Requena-Comfort crew. We all had said we were done for the day so we did not get to ski any with them but got to share a locker with them for the day. The girls also got to take a break with Diego while Lisa and Kelly went to store our rentals and get the girls regular boots since one of them was saying they could not walk in the ski boots

Ivy declared she only wanted to go home (aka the room) so we ran by to drop her and our stuff off since Chris was in the room laying down. Leia and Lisa went to the store to get goggles we had forgotten and pick up lunch at Hypnotic Chicken. Once we finished eating the Comfort ladies headed downstairs to the game room, fitness room, and pool/hot tub for the afternoon entertainment. Even momma got in the cold pool; she is not sure why anyone would want that over the hot tub. Once we were all prunes we headed up to shower.
Poor Chris was in bed all day


We did not want to disturb him so we entertained ourselves in the game room, fitness room, and pool

Chris had made a reservation that we'd cancelled the previous night and rescheduled at a place called Elevated. However, he still was not feeling like doing much when we returned so the Comfort ladies decided they would still go since we did not want to cancel on them two nights in a row. The restaurant looked nice but we might should have been concerned when we were the only ones in there. Plus, we declared it was weird not having Chris with us. We ordered and the food looked good but fell flat when we tasted it so none of us ate our meal. We heard them send staff home so they were not expecting a busy night. By the time we were leaving Lisa had a headache, Ivy was asking to go bed, and Leia was indifferent to what we did so we headed back and called it an early night.
We love a good card game to entertain ourselves before time to leave for a rsvp


Girls dinner

Saturday morning, Chris woke up with us and seemed to be normal (if we can really call him normal). He had not eaten on Friday so asked about going out for breakfast. We found a yummy looking breakfast at Winona's. It turned out it was fabulous! Ivy was happy with her chocolate chip pancakes. Leia loved her huge, bigger than her head cinnamon roll. Lisa got an excellent California Huevos and Chris enjoyed his French toast. When we finished it was still pretty early and not much downtown was open so we headed back to the room to pass time before tubing. Ivy and Lisa entertained themselves playing cards while Chris and Leia entertained themselves with iPhones while we waited.
Look at all the yummy stuff in the the case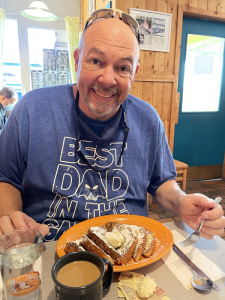 This one cracked us up sayign the new card deck was not in order


Cards are always fun to pass the time while we wait

Finally it was time to go. We drove up to Saddleback Ranch taking in gorgeous scenery to get tubing tickets. It was such a great time! There were two runs open when we arrived and one more opened while we were there. The green run allowed us to link arms with each other which was Ivy and Lisa's favorite because we were able to do it together. The black run was bumpy and fun which was Leia and Ivy's favorites. The blue run that opened later was fast which was another of Lisa and Leia's favorites because of the speed. Hmmm, we all had two favorites but tons of fun on all the runs. The time went by quick as the old saying goes, "time flies when you are having fun."
The tubing gang


The conveyor that pulled us up


Sweet girls


Fun time!!


Loved tubing down together


The adult-kids had as much fun as the little kids


We are like wine and get better with time


Love creating memories together

Anji (Kelly's friend that met us) recommended a lunch spot was called Sun Pies which was a fabulous recommendation. There was both beautiful views and great food but the fellowship was the best. We enjoyed the laughter with friends and family but was getting a little too much sun. Plus, we needed to get back to our hotel for our pickup to go to the hot springs so had to call it a wrap. On the way out though our girls did get to run by the candy store they spotted on the way in and asked go too.

Loved this sign at our lunch spot

The ride to the Hot Springs that afternoon was another gorgeous ride up. We could see being iffy to drive ourselves if it were icy and not 61 degrees. The sight of the springs were breath taking. There were cold springs and several hot springs that ranged in temperatures. We all explored all the warmer/hot ones. The ladies all at least got to our waist in the cold water but quickly returned to the warmer pools. There was excitement not long before we were going to leave with a lady who fainted. We were able to share water and snacks with her when she came too before we left but it was a scary situation for a few minutes not knowing what was happening that left an impression in our kids minds since they talked about it a few times.
Excited to soak sore muscles in the hot springs and have some fun too

That evening, the Comfort ladies joined the Requena-Comforts and Wood's on the mountain to ride the coaster and take in the views of the city at night. Chris said he was tired and opted to rest up for the next day. Ivy was not quite tall enough to ride by herself so all the kids and Lisa got unlimited ride tickets while the other adults got one time ride tickets. Ivy got her money worth by riding twice but got too cold after that while Leia rode it 6 times with the other kiddos. Lisa and Ivy made their way to Timber and Torch to join the other adults but would take breaks from the adult time to go throw snow or ice balls. We ordered food and ate when the coaster closed then Leia requested to head back since she was tired so we left the rest of the party animals to call it a night.
Coaster ride at night gave some incredible views


Sweet Ivy was too short to ride by herself so she rode with mommy and aunt Kelly


Snowball fight! Ivy is our energizer bunny


Diego got the calm, mommy got the snow balls

Sunday morning was not quite as an early of start for our ski day as the first day but we excited Chris was joining us. We arrived about 8:30 and got ready then hit the lower and upper preview slopes. Chris made a couple runs then decided he was done skiing so went and got coffee and enjoyed the views while Lisa and the girls skied a few more runs. Kelly and Alicia joined us after we had been skiing a couple hours. We did the preview slope one more time then headed up to Sitzback that took all three of us out the first day. We all made it past the point that we did the first time without falling and the girlies made it all the way to the bottom without falling. Kelly did the run again looking for the girls while Lisa took a break with Chris to get coffee too. By the time we all regrouped It was lunch time so when everyone made it back to the base we all grabbed something to reenergize.
This Alabama girl was so excited to see snow she made a snow angel in the parking lot before we headed up to the slopes


Our one run together


Chris took a break so Lisa headed back up with the girlies


Then we let these two go up and down just the two of them while mommy checked on daddy


We were happy to see Kelly and Alicia when they came to ski with us

After lunch we rode the gondola up to the top together. Diego and Kelly took the 4 kids on a 4.5 mile ride down called 'why not' while Lisa and Chris rode the gondola back down and took care of getting refunds on lift tickets and rentals since we were not able to ski one of the days due to flight interruptions. Once the business was taken care of Lisa wanted to ski a run or two. As she was walking that way Kelly texted to say they were down and Ivy was done but Leia wanted to go again. Kelly and Diego took Leia while Lisa tried to talk Ivy into a short run but she refused. Thankfully, sweet Alicia agreed to go ski with Lisa while Adrian and Ivy threw snow balls at each other. We skied a short run then Alicia and Lisa joined the snowball fight. Lisa asked Ivy if she wanted to get the ski boots off but instead she decided to ski another run or two so that is what we all did. Happy, that all of us ended the ski portion of the trip without a fall before heading back to the hotel.
Gondola Ride


We took in the beautiful view


Then got a quick selfie before we headed down to take care of business

Aunt Kelly and Tio Diego got some pictures of their ski time with the littles

Sweet Alicia and Lisa got to ski a run just the two of us to make sure Lisa did not end the trip on a fall while Adrian and Ivy threw snow balls. Of course, we joined in the fun when we got back from the run


Ivy decided to go one more time too so Lisa got to ski with the three kiddos on her and Ivy's last run of the trip

Kelly and the kids joined us at the pool for the afternoon. It was fun listening to the kids play while we soaked in the hot tub and got to visit. Previously when we had gone there had only been one other couple come in with us. This time there was a few more people but it was still easy to social distance and no one stayed long with the excitement in the pool. We came up with dinner plans and all headed back to get showers after almost a couple hours in the pool. We had decided to meet at the restaurant so everyone had a little down time beforehand. We opted to go shopping to get a souvenir a few minutes before meeting at the restaurant. Unfortunately, we did not think about it being Sunday and shops closing early so a lot If them were closed but we ran into the Requena-Comfort's doing the same thing at one t-shirt shop. Ivy and Alicia decided to get the same shirt so they could be twins. It was close to dinner time so we walked back to Mai Tai for yummy Thai food, sweet fellowship, and said our goodbyes since we were heading out Monday and they were heading to the mountain for the day.
Hot tubs feel nice after skiing


The little ladies were crazy and preferred the cold pool

Monday morning we did not set an alarm in hopes of sleeping in since it would be a late travel night. Unfortunately, Lisa woke up before 6 and the girls a little bit afterwards. Chris was able to sleep until after 7. The girls grab a breakfast snack from downstairs then we packed up, watched TV, and entertained ourselves in the game room for the morning since we found out a few of our planned activities had closed for the season. We ventured out a little after 11 for brunch/lunch then explored the shops and walked along the river until it was time to get to the airport. Thankfully our flights were on time. There was a little hiccup on the plane as Ivy freaked out and declared she was going to throw up and we needed an emergency landing. Yes the flight attendant did ask if we needed to land since she screamed it loud enough for them to hear but Lisa said no, thank you. Ivy ended up falling asleep after an hour or so but boy she was a handful on that leg of the trip. We all were happy when we landed in Birmingham to head home. After all, a vacation is great but it is always nice to get home after it too.
Packed up and ready but not wanting to leave the room and put on a mask just yet


Daddy wanted to rest but the Comfort ladies were getting stir crazy so we headed back to the game room


Always up for a good time;I pray she never loses her zest for life


Souvenir, shopping day since everything we had planned closed due to the warm day melting snow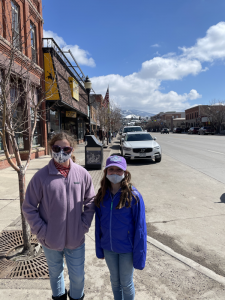 We got Leia on the horse before we left while we were shopping too


Enjoying the outside as long as we can until we have to go sit in the airport


Entertainment at the airport