So proud of our smart, sweet girls! Leia's class worked on an engineering project where they built a structure from index cards that had to support different objects in the class room and be a certain height. She was beaming when mommy picked her up since her group (all girls) built the tallest structure that held all the objects it was suppose too. Sweet Ivy has been practicing her cursive in her morning reading group and voluntarily practicing her letters and writing sentences with the letters she has learned thus far. These two little ladies brighten up our world; excited to see what the future holds for them. Praying they both always have the joy in their hearts they have right now. Mommy and Daddy love them so much!!!!!!!!


Date Day for Chris and Lisa …working from home has its challenges and advantages. One of the advantages is when you are just not being productive and struggling to focus you can take a long lunch and work a little later and enjoy sweet time with your spouse. Chris bought Lisa a gun recently and has had one himself so Chris got a membership at the gun range nearby and we took advantage of it to go shoot/let Chris teach Lisa how to operate her gun. I would say neither of us were bad shots ;). Afterwards, we enjoyed lunch together. Love spending time together just us to reconnect and have fun together!


As we were putting the girls to bed Ivy discovered she had a loose tooth, a very loose tooth. She could not go to sleep thinking about it so after a little bit she wiggled it out so everyone could go to bed and the tooth fairy could come (Wednesday, Sept 16, 2020)


One of our sweet family traditions is to have a "Family Fun Friday Night" every other week through out the school year. The school year is normally jam packed and we just don't get as much precious time together. We do not always take a picture or even blog about it but oh how I pray this time and tradition will continue as our girls get older. Every other week the girls get to help plan what we will do from dinner to entertainment. Some weeks it is dinner in, others it is out or snack food for dinner; some weeks it is game nights, others it movie times or going out to do something special. Momma and dad just enjoys seeing the smiles and spending precious time with our sweet girls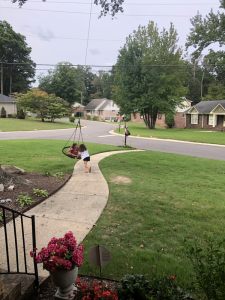 Evening snuggles and entertainment during our family movie night


Ivy has been doing a before school reading program so we have been leaving a few minutes before 7 to get to school. On the mornings that the early reading program is cancelled and we get 30 or 40 extra minutes at home in the morning we take advantage of it! Breakfast on the porch before school on the nice, autumn morning in the middle of the week … I'll take the extra blessing to spend a few extra minutes with our little family on Wednesday, September 23rd or anytime we can get it.


Wednesday afternoon the girls both got to have play time with friends. Ivy went home with Evelyn and to swim in her Mimi's heated pool. Mommy neglected to get a picture of Leia and Eliza here playing but we stopped by Roll Up on the way to our house then pushed each other in the rope swing, played in the playroom and rounded the end of their fun time doing homework together on the porch that was due the next day. Later that evening Chris got to go to Mexican with the girls and Talley boys while Lisa had cousin dinner at our Mimi's, again we neglected getting a picture. Leia was excited that their barbie set they ordered arrived though


Friday evening, Mimi took Leia to the 5th grade social, "Mass Chaos" at church and spent some sweet one on one time with Ivy going to dinner at Waffle House and shopping. Then she took our girlies back to her house to spend the night since Chris and Lisa went on a double date with Holly and Wes to Tre Luna


Mimi let the girls go shopping Saturday morning too


How Chris watched the first week of college football starting back


The girls enjoyed sundaes on Sunday and invited friends to the house to play


Tuesday afternoon was another day at the barn


First Friday in October, the 2nd was a family fun night … puzzles and playtime for the whoel family


Sunday morning it was finally cool enough to use our fire column so we took advantage and had smores for breakfast


Back a the barn the first Tuesday in October. These girls love doing anything at the barn


Ivy also started basketball too.