This year the girls got a 5 day break from school in October. We took advantage of it and decided to go to KY to see the Ark and visit our Huckestien family in KY. Friday morning the girls were so excited to be going they were up before 6am. We got on the road a little before 9 to make the 378 mile drive thru Tennessee and on to the northern part of Kentucky. We stopped on the way multiple times for restroom breaks but did grab lunch and gas on a couple stops. We arrived at Joys about 4 o'clock eastern time and all were happy to get out of the car.
Aunt Joy showed us around when we got there, where we would be sleeping, and the girls were excited to meet the cats/see Bento again. We all unpacked, relaxed, and the girls went on the first of many walks with Bento and the cats. Dan, Nancy, and Raina arrived after they got off work too. The little ladies hit it off and immediately started playing. The adults fellowshipped and figured it this November would be 3 years since we'd saw Dan and family.
We enjoyed a night in as Aunt Joy made chicken and dumplings that evening for dinner. We all were able to gather around to enjoy it and each other's company. We discussed the weekend plans and decided decided to to the Ark Saturday instead of Monday due to rain chances plus that way everyone could go together. We had debated letting all the girls stay together that evening but knew Saturday would be a long drive and we'd driven that say already Raina headed home while we headed to bed a little before 10 o'clock.
Travel day


We were all happy to reach aunt Joy's house!


We enjoyed dinner with Dan, Nancy, Raina at aunt Joy's house

Saturday, we cooked biscuits, bacon, and eggs to energize us for the day. Dan and family arrived close to 10 and we loaded up to drive to Williamstown, KY to see the Ark. None of us knew exactly what to expect but we all were up for an adventure. As we arrived we noticed the parking more packed than we thought it'd be but the ticket line was quick and the bus ride to the ark was spacious as they had removed seats.
When we arrived we made a quick coffee and restroom break before making our way to the Ark. It was crowded inside. We may have gone a little quicker or opted to skip by a couple areas with the crowd but we enjoyed ourselves. It was interesting to see a visual of how Noah May have organized the Ark and lived for the 150 days with his family and the animals floating when God flooded the earth. Several exhibits were thought provoking on how Noah stored the animals and how God probably sent juveniles instead of full grown animals for storage purposes.
The girls towards the end of the tour were getting tired of walking around the boat but enjoyed getting fudge in the gift shop on the way out. We started to grab lunch but decided against it with the lines so headed to the park for the girls to play a little bit. As we were leaving we were able to help a sweet little boy find his mom and dad who were totally unaware he had wondered from the play area and was upset, unable to find them.
When we returned that afternoon, Raina stayed at Joy's while Dan and Nancy headed home to cook. We did not see the girls much as they were playing except when they asked to walk Bento and the cats and we searched for them in the trees they climbed. We headed to Dan's that evening to grill out steaks and see their new house. It was beautiful; you could see their styles come alive in the decor. We stayed there fellowshipping, watching the Bama game, and enjoying our sweet time until well close to 11 then we loaded up to head back to Joy's and let the little ladies have a spend the night party.
Mornign snuggles and fun at Joy's


Waiting on the bus to go up to the Ark


On the bus heading to the Ark


First view of the Ark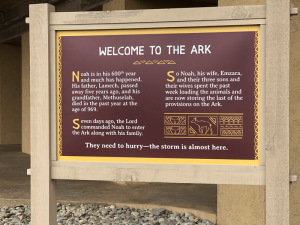 Leia in front of it for perspective

None of these little ladies have had parks to play at with the public parks in KY and AL being closed due to Covid so they enjoyed the time they had playing at a park


The girls had fun walking Joy's cats and Bento


They also had fun climbing the trees behind Joy's house


Their fun continued at Raina's house


Yummy dinner at Dan and Nancy's

Sunday, Chris and Dan took a little cousin time and went to Indiana to shoot clays. They decided that Chris should practice with Reed's gun since Chris is going to use it at the end of the month on their hunting trip. Surprisingly, Chris beat Dan; Dan was having an off day or wanting to make Chris feel good. ;). The ladies hung out at Joy's and took a R&R day. We did take the girls to Target shopping but other than that we let them simply enjoy being together and a low key day.
Sunday evening, we went to a local place named, The Village Anchor. We enjoyed a nice meal together again then Dan, Nancy, and Raina came back to Joy's to let the girls play a little longer and fellowship. We certainly do not need to go as long between visits with them next time. We said our goodbyes to Nancy and Raina since they had work and school on Monday and we would not get to see them again this trip. It was a early bed time for all as the night before the girls had not rested enough.
Quick morning pic of the boys before their shooting fun and the girls headed out to walk Bento


The boy's shooting fun


The girls enjoyed playing with their new toys they got at Target


Afternoon walk


Waiting for dinner watching the never ending train

Monday morning was the morning our girls were not ready to come since it was the day we had to travel back home. The adults sipped on coffee that morning, the girls got to take Bento on one last walk, and Ivy got to climb the tree before we loaded up the car and said our goodbyes to Bento and the cats. We had decided to take our horse loving girls to Churchhill Downs since we were so close to it. We arrived there right as they were putting the horses up for the day so we did not get to see the horses but we did a walking tour of the facility, went through the museum, and watched a video about the Kentucky Derby.
We learned that the Kentucky Derby has their own winner circle; all other races there use a separate winners circle. The Derby also has 20 horses in the race while all other races have 14 horses. To qualify for the Derby "back in day" it was simply whoever made the most money. Now there is a point system and races closer to Derby Day are normally worth more points. Horses have to be at least 3 years old to race and you determine age by the calendar date January 1st; every January a horse turns a year older. All bets have to be made in cash. On a race weekend 80 to 85 million are brought into the stands by the guests. Winners of the Derby get 3 things: a trophy, a blanket of roses, and $1.86M (10% to jockey, 10% to trainer). The race has only been postponed twice in its history. The first time was in 1945 due to WWII, the government placed a ban on horse racing because too many resources like gas would be used to transport the horses; it was ran on June of 1945. The second time it was postponed was this year, 2020 due to COVID; it was ran in September but had limited number of people in attendance.
After we did our tour and learned about the Derby we let the girls pick something out to remember their trip. Ivy picked out a jacket while Leia was having a hard time and decided she just wanted a chocolate horse coin. We grabbed a horse ornament too as a longer keep sake. It was time to meet Dan and Joy at Yankee Noodle. Ivy was particularly excited to go to Dan's restaurant. It was delicious just as we expected. We lingered over the meal and enjoyed the sweet fellowship before having to say our goodbyes to Dan and Joy to start our journey home.
Ivy wanted to climb the tree one more time before we left so we went out in the misting rain to let her


The girls said good bye to Bento and the cats


We could not make a trip to KY without stopping by Churchhill Downs where the Kentucky Derby is ran with our horse loving


Of course a chocolate horse coin was the souvenir our girls picked


Sweet Leia set up a spa for mommy since she knew her back was hurting from the drive when we got home. She speaks mommy's love language well. We are so blessed to have her sweet, thoughtful heart in our family!

Tuesday, was a R&R morning for the girls! Daddy had to work. Mommy went to the dentist since her mouth started hurting Friday. Thankfully the dentist said a prescription would do the trick. Mimi came over midday and we went to lunch and enjoyed some sweet time together. Chris took the girls to horse riding that afternoon since he had conference calls and could sit in the car on them while Lisa got things ready for the work and school week ahead. So thankful for the few extra days out of school where we could focus on being together and create some sweet memories.