Thankful we went to the beach when we did! The crowd was low while we were there and we were able to keep a healthy distance from others. We probably would have had to cancel our trip if we had waited another couple of weeks to go to the beach since late June the numbers for COVID started raising again. We went back into a semi-isolation where we were selective what we did, where we went with masks, tried keeping our contact to a limited number of selective people, and generally only participated in outside activities (excluding family of course). This is a strange summer with few activities and not knowing if our school calendar for next year will be altered with the pandemic or not; we were told we would be given a decision sometime in July. This year is teaching us to roll with the punches.
Katie's 11th Birthday was the day after we returned from the beach. Glad we got to go to her pool party at Mimi's to celebrate with her and a few of her friends.


We helped fix Mimi's fan while we were there too

Saturday morning fun at home …. you never know what will happen. Love these girls keep us on our toes and laughing. Life is more fun with Leia and Ivy!

Saturday afternoons in the summer are made for the pool. The girls had fun swimming with Alex.


It is lots of fun at Mimi's


Plus there is yummy food


Ivy loves her ice cream and was proud of her face

Monday was Alicia's 9th birthday. The girls decorated cakes with her via FaceTime that morning.


Met backup after lunch to sing happy birthday and cut the cake


In the afternoon they attended her virtual birthday party and painted some awesome pictures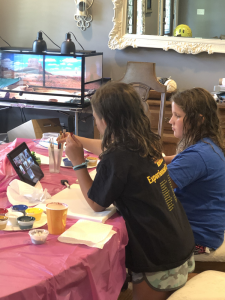 Wednesday with neighbors is always fun! Ivy loves little ones! Our sweet neighbor was out swinging after she took her 1 year old pictures so Ivy got to get some sweet baby snuggles in then pushed Elliot on the swing at our house. Thankful for sweet neighbors to play. I love seeing all the kids outside more these days riding bikes, running, and laughing

Ivy started back gymnastics COVID style. There is only two people in the class to limit contact and the coach is required to sanitize after they finish each station. Kids are required to get their temperature checked upon walking in and wash hands as they walk in, a sink was installed next to the front door. Parents are not allowed to go inside so they set up zoom so parents can still watch.

Donna Drive mom and kids pool time at Mimi's for Friday Funday


We let the boys join us in the evening for a round or two of Catan; Chris was happy to leave with the defending champ holder

Our first zucchini and cucumbers from the garden 🙂

Father's Day 2020!
We celebrated with Mimi and the Rhoads on Saturday evening since Sunday it was suppose to rain. Thankful to get to spend time together and celebrate the dads in our life. We love going to Mimi's

Sunday morning we snuggled and gave daddy his father day surprises. It was a low key day for us. Chris was invited to hit golf balls with the Talley boys so he got to do that and then we played a game a Catan since their golf fun was cut short with the lightening strikes; Wes got his first win on Father's Day. We came back home and fixed a light dinner then had sweet family time that evening. It was a low key day but Chris said he got to do just what he wanted and enjoyed it.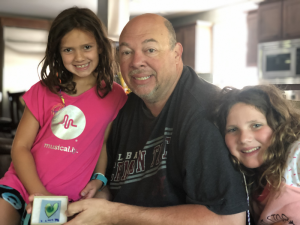 We played a board game in the afternoon with neighbors and friends


Sweet girls loving on daddy at dinner time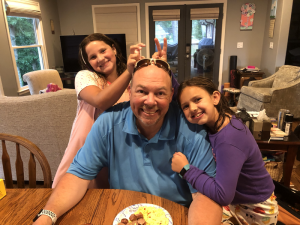 Evening snuggles with our baby girl always makes a momma's heart happy

Monday both mommy and daddy had to work. Thankful the girls have each other for entertainment. Love evening time when we just get to be us and get snuggles!


Of course we have fun with funny faces too

Mommy has been trying to eat a healthier diet so the whole house was put on it with her since she does most the cooking. We now have a one bite rule where you have to try a bite of everything cooked then you can add to your plate. So impressed these two ate, Turmeric Cauliflower Soup and I've heard I like mushrooms from my kid

Our sweet neighbors found out their little pup had cancer and decided they would put him down so he did not suffer after everyone had time to say good-bye. Holly texted soon after they found out to see if our girls could come down to help comfort sweet Alex so of course we did. The girls all loved on Sid before he was taken to the vet to cross over the rainbow. Chris told them about the dog poem too. He had also ordered "She-Wawa" shirts for the girls and they came in the day Sid passed away as a happy surprise; God is good for all the timing to work out like it did.

We took a COVID style trip to the zoo. All inside exhibits, intreractive activities, and rides were closed, and everyone wore masks. There were signs posted all over to keep an alligator, otter, etc length apart. For the first time ever our girls looked at the animals.


This girls loves helping littles


Looking at the sea lions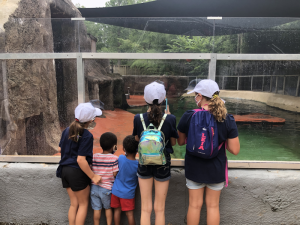 Elephants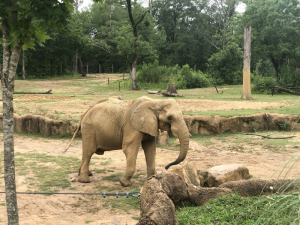 and rhinos


Sisters are awesome! Love their bond and how they love each other


Leia got tired of looking at the animals and said we outta here


Of course mommy wanted a zoo crew picture before we left. Thankful to have sweet neighbors and friends to quarantine and do life with during this crazy time

The girlies got to spend the night with Mimi Friday night after our zoo adventure. Love that Mimi always sends a morning pic so we can see their smiles and them enjoying theirselves while mommy and daddy got a few things done at the house. Of course, mommy and daddy headed to Mimi's as soon as we could to join in on the fun and play in the pool


Saturday, morning we went to Mimi's early to meet up with the girlies and invited our Donna Drive gang to Mimi's pool for a little fun with us too
When we arrived we saw Mimi cutting the neighbor's yard. Apparently, she had gone into labor so Mimi was being herself, one of the most generous, nicest neighbors ever since she knew he had planned on cutting the grass this weekend before the baby arrived. I want to be as generous and kind as my momma … she still is reminding and teaching us how we should live


Pool Party fun!

Saturday evening, Chris's cousin Brian and his lady, Julie and Michael stopped by to visit on their way home from Louisville to Naples. It was so good to meet Julie and Michael and get to visit with them all. The kids had fun hoover-boarding, playing with the dogs, swinging, and having fun together while the adults got time to enjoy some sweet fellowship. Thankful for precious time with family!


After a great June we ended it on a sour note with one of our little princesses, sick with strep throat for the first time in her sweet little life. Thankfully we did go to the doctor and expect a full recovery by the 1st of July but we did enjoy the low key end and sweet snuggles


Despite the fact on July 1st the girls got up too early


There was a full recovery and it was time to have some fun