Tuesday morning we woke up and got the car packed in time for Chris to sit down and enjoy a cup of coffee. He needed the coffee since he had to stay awake the whole drive. Lisa and the girlies may have taken a short nap on the drive down. With the ladies in the car napping we only had to take two potty breaks before stopping at Cosmos for lunch.
We sat outside and enjoyed the fresh salty air and all fresh fish for our first meal at the beach. After we ate we made a quick stop by Public for snacks for the week. We unloaded everything in the condo and were off the the beach. The girls played in the water at the edge for a little bit then got braver to walk out a little farther. When Chris joined us he quickly joined them in the water.
First view from our balcony


The girls could not wait to get in the ocean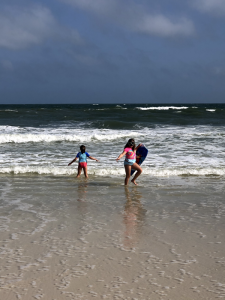 Lisa enjoyed sitting in the waters edge watching her little family enjoy the water while relaxing hearing the waves crash on the shore. It was so peaceful! When the kids were water logged and the sun set we headed into the condo to get showers, snack and enjoy a family game of eight card. What a great first day at the beach with our little family.

Our only family picture from the trip that was not a selfie


Mommy sat by the pool while these two swam


Always enjoy a ocean view from the balcony


Evening games and snuggles

Wednesday morning we were all up early. The adults enjoyed coffee on the balcony; one of the favorite times at the beach. After a couple of cups mommy cooked a yummy breakfast to fuel us up before heading to the beach. Lisa took the girls down ahead of Chris to give him some time alone to re-energize. Mommy and the girls headed straight to the ocean to dive into the waves. Daddy joined us when he came down too. One of the negatives about us all in the ocean and here alone is no family pics in the ocean but we had fun so hopefully the girls will remember in their memories as they get older.

Breakfast at the beach always is good


Love our beach set up for the day


We enjoyed watching a guy do a detailed castle


Ivy is always up to play

Mommy took the girls to the pool mid-day and grabbed snacks. However, the girls decided they were super hungry and preferred lunch instead. They had asked yesterday if we could go to Lunas today so that's where we went for them to get their pretzel bites and spaghetti and meatball. Mommy was the only one who opted for seafood again. It was good! We all left full and decided we would have to get BuzzCat ice-cream another time.
Before heading back to the condo mommy and daddy had to make food on their word and let the girls get hair wraps. It took a little longer than we'd planned! We had to drive 20 minutes in the opposite direction of the condo. Then there were two people on front of us before it was the girls time. Both girls were super excited to get them though. By the time we got back to the condo it was pouring and everything we'd left at the beach was drenched. Ivy and mommy headed down to get the stuff and put everything in the dryer.
Right after we got everything back to the condo and the dryer started, the sun came back out. The girls asked if we could go to the pool so we took them down there until they were water logged and hungry. We headed back up to the condo to eat dinner and snuggle a little bit. Mommy and Ivy decided to go back down to the beach to play in the sand, enjoy the waves, see the sunset, and walk on the beach while daddy and Leia chilled in the room.
Mommy watching her girlies


Ivy wanted to go back down to the beach so she got some one on one time with mommy since Leia said she wanted to stay in the room. Ivy surveyed the other guys sand work and decided to create a master piece herself.

Evening setup since most of our stuff got drenched


This girl was serious about getting a good sunset picture for aunt Stacy and loves having her picture taken too


Thankful a sweet lady was willing to take a picture or two for us


What a gorgeous sunset

Ivy was ready to head up just after sunset so we did. Mommy got to sit on the balcony with a glass of wine and visit daddy while the girls got ready for bed. We had some family time playing cards again then snuggled up to watch TV before calling it a night. Love the sweet time together!
Summer loving


Evening time is always sweet


Love that Ivy requested we get a picture of them sleeping in the bunk beds … of course mommy obliged

Everyone was up by seven to enjoy the last full day at the beach. After a cup of coffee mommy made eggs, bacon, and cinnamon rolls to fuel us for the day. Ivy and mommy headed to the beach first and got us set up. Leía joined us a few minutes later. We all headed to the ocean to float around but ivy said she saw a stingray so she bolted. Daddy came down then we had man on man coverage again. Mommy hung out with Ivy on the beach while daddy and Leia floated around.
Beautiful morning view


Love these monkeys!


Morning fun


We could not convince Ivy to get in with us but she happily took a couple pics

Ivy did make friends on the beach though

Eventually Ivy found a friend and braved the water again. Although she did not want to go out as far as daddy and sissy. We all compromised and had family ocean time for a while before mommy walked over to see about parasailing nearby, Leia has been asking yo do it for two years so we decided to go for it. We couldn't talk Ivy into it and Chris said his back a was s hurting so opted out too.
Love watching their sweet bond and them play together

Daddy and Ivy played in the sand and floated while mommy and Leia headed on our adventure. We got on life vest and climbed on a banana boat behind a jet ski to be pulled out to the boat to parasail. It was just the two of us, the driver, and photographer on the boat. We soared up in the sky above the 20 story condos. Leía said it was awesome, that she felt kind a bird, but she did say she was nervous on the banana boat and sitting on the back of the boat waiting to takeoff. Mommy was more nervous as they kept lengthening the rope and we went higher and higher in the air; seemed like this flight was higher than any other time she'd done it. However, mommy was grateful to experience Leias first time parasailing with her and loved watching her excited, talking in the sky, and living an adventure together. Leía said she had to do it again in her life; maybe next time we will talk Ivy and daddy into it too.
It is picture overload but it was Leia's first time, we bought a photo package, and had 259 images so ….

We returned to the ocean where daddy had taken Ivy out farther than we had been before. Leía excitedly told them of our adventure then we decided to walk across the street to grab lunch at Islander Food Shack. Lunch did not take long so we were able to head back across the beach to enjoy the last afternoon there this trip. Chris had a headache so he and leia stayed in the room but Ivy and Lisa went back out.
We played and floated in the ocean more. Leía eventually made her way back out to join our fun in the sand. Once we had enough sand the girls asked to go to the pool so we headed up. They were excited some friends they'd met the day before came out and they got to swim with them. Mommy lured them away by reminding them it was the last chance fir ice cream. Daddy joined us and we headed to BuzzCats. While they were enjoying their ice cream mommy mentioned the fish at Luna's was really good so we decided to go get one last piece, we just had dessert first this time.
When we got back to the condo Leia immediately got a bath and put in PJs. Mommy and daddy went to the balcony to listen to the waves crash on the shore. Ivy wanted to go back out to the beach and ocean though. Mommy and daddy divided and conquered again. Daddy took Ivy while mommy relaxed on the balcony a little longer then headed in to spend some time with Leia. Mommy's did start to gather a few things for our departure on the morning but decided time just being together was better. We skipped game time that night and stuck with snuggles and shows. Great way to spend the last evening at the beach.
Mommy tried to get pictures of them on the beach even if it was from afar

Up early to sit on the balcony with coffee and watch the waves crash in the shore. We ignored the fact we needed to pack and load the car a couple hours and simply enjoyed a leisure morning. It did not take long to pack up when we started and get gone with all hands on deck. We stopped by Perdido Key Breakfast Club on the way out of town to enjoy a yummy breakfast. Four hours later we pulled into our drive. Lisa of course had to get everything unloaded and washed immediately but we were all thankful for a few days away together.
Morning coffee before packing up was nice