From COVID to riots … it is a strange time we live in but God is in control and His plan will always prevail. Thankful we know that Jesus has already defeated the real enemy and reins as the King of King and Lord of Lord. We still desire to live life to the fullest in these uncertain time and love on those God has allowed us to share this season of life with while being wise washing hands and taking precautions to stay healthy as well ….
Graduation party for Luke Talley Wednesday evening following their COVID style graduation Tuesday


Our girls playing with the wagon mommy rode in as a child Thursday at Mimi's


Swimming and helping Mimi in the yard, always fun at Mimi's


The best part of fun neighbors is the impromptu gatherings


First spend the night fun in a LONG time … sweet summer time


These kids are living their best life! Swinging on the porch bed and playing with friends


Planting plants and game night that is how we do a Saturday night


Super Sunday with family: relaxing, eating, and playing … who can beat it. We decided to celebrate Memorial Day with the family on Sunday instead of Monday since the weather forecast called for rain Monday


Memorial Day, Monday evening fun … the weather forecast was wrong


The girls got to have Alex spend the night too, extending Memorial Day fun out


Tuesday morning breakfast on the porch and play day with Alex ALL day long while mommy and daddy worked


These girls having fun with the Wii Sports game Tuesday evening


Wednesday was another work day but we got to have a little fun after quitting time with family. Mimi, Sara, Katie and Uncle Mark came over for dinner; Stacy went to a friends. Leia pulled Katie and Mark into her Wii games too before she and her sister headed to Mimi's to spend the night


Always thankful for some sweet time with my momma!


Thursday Lisa picked up Sara so she could join the Comfort girls at Mimis


Ivy helped mommy Friday seal the porch


Saturday Ivy got a play date with Evelyn while Leia went to a friends birthday party. Both girls had a great time with friend(s)! It had been a long time since they both had time with friends.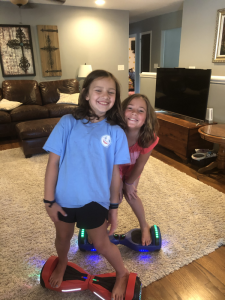 Sunday, we enjoyed our morning at home then took friends to swim and play at Mimi's again. We had heard of civil unrest in Minnesota where a white officer harsh treatment of a black man ended in his death. The civil unrest spread across the nation and landed in B'ham with violent, riots destroying businesses into the wee morning hours occurring. Our world was rocked that evening and we know we need to talk to our girls about the events of the world but how do you explain something you don't understand to your children? Praying for wisdom and our nation as we underwent a pandemic the last 10 weeks or so and now racial tensions and violence …. Lord Jesus let you spirit fall on your believers to give us peace over fear and share love over hate


Monday we went back to Mimi's with the intention of swimming into the evening. However, we heard some of the rioters from the night before had planned to head to Gardendale so decided it was wise to head back home not long after we arrived since we had a sweet friend with us. Reports were surfacing that bricks were being thrown from bridges at cars on the interstate, etc … and a 7 pm curfew had been enacted. As these worries were on the adults minds we drove home with mommy silently praying for a safe trip home and protection over all innocence lives as protest and riots were expected to resume that evening. We still have not told our children of the evil, events in the world going on so their childhood innocence and fun-spirits were in full force; blessed to see the world through their innocence.


Enjoying sweet snuggles as we let the girls stay up late to savor time with them


Tuesday, Ivy wanted to go swim at Mimi's but Leia said she wanted to stay home. Sweet Leia helped mommy by starting our cleaning. She knows her mommy well and spoke to her love language of 'acts of service'. Ivy ended up spending the night with Mimi & Sara. They fixed pasta for dinner and played in the pool. Leia got Mommy & Daddy to herself for the evening. We left Leia pick dinner, Outback, went for a walk, and simply enjoyed being together. Blessed to have some special time with Leia and missed our caboose all at the same time.
Dinner on the porch


Fun game of volley ball


Evening fun


FaceTiming sissy as we laid in bed


Wednesday was a work day for Lisa and Chris so Leia fending for herself most the morning watching TV and playing solo. Aunt Stacy picked her up to take her to Mimi's about 11 so it was not too long. They had a fun time at Mimi's playing in the pool and spending a little girl time together. They planned on a girl party that night as the 4 grand-girls spent the night with Mimi. Love that they have special time with Mimi
Thankful for morning texts and calls when our baby is gone! Miss her enthusiasm and sweet spirit when she is away.


We got FaceTimes and texts through out the day but only a picture of their dinner time


Thursday morning fun with cousins to Thursday evening fun with momma (guess when daddy is not around mommy gets stuff on her head)


Friday morning we enjoyed sweet time with Mimi, we rode bikes, Ivy swam, and then it was time to head home


Friday afternoon Grandpa and Deedee arrived to visit a few days. The girls were super excited to see them! This is the first time that we had saw them since COVID isolations started on March 15th. Before they came they had texted they wanted to bring girls something since everything was closed so they ordered a trampoline sprinkler and yard game which Grandpa put up right after they opened it for the girls


I bet they are going to have a good time with it this summer!


The adults enjoyed a glass of wine and made dinner while the girls played. It was fantastic fellowshipping in person and getting to hug their necks


Grandpa missed getting tortured by his grand-girls


Deedee helped clean up from dinner while Grandpa got his makeover after dinner


Sweet evening snuggles after our walk and baths


Of course Grandpa wanted to play with the girls too


Saturday, Grandpa and Chris went golfing so Deedee and Lisa had the girls to ourselves for the morning. We enjoyed the leisure morning at the house snuggling, doing math, watching TV, and making welcome home signs for their bfff. Mommy forced the girls to put on clothes to go to JoAnn's for Deedee to run in to get thread and picked up lunch on the way back home


Ladies lunch


We headed to Mimi's midday. Mommy finally braved the pool wince it reached 82 degrees then the boys joined us after golf. Of course they got in after dinner too


Sunday morning came too quick. We face-timed Tío Diego to wish him a happy birthday; looking forward to celebrating with him when they come off isolation. Grandpa and Ivy went to get donuts since it was going home day but we the girls did get to play a little with them before they headed home. We were sad to see them go but look forward to visiting again soon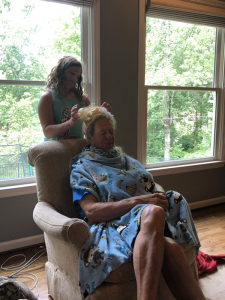 Sunday afternoon Leia picked her first item from her garden, a little tomato. We cut it so everyone got one bite of it from her home grown garden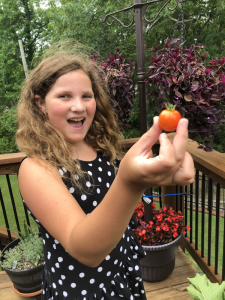 Game night with the Talley's since they returned from the beach and we leave Tuesday


Monday after work we went to Mimi's to celebrate uncles Mark's birthday with him