Monday was a full day of school and a little home economics for Ivy. She learned to make homemade bread all on her own. Both girls front loaded their weeks too.

Tuesday we went to Mimi's after we finished school and work. Always a good time!


Our big girl decided to stay to have a one-on-one with Mimi


We hung out with a neighbor that afternoon


But of course we FaceTimed before bedtime

Wednesday, good morning text from our big girl


They rode bikes, walked, rode the golf cart, and had lots of fun which was a lot more fun than Chris and Lisa working.


Ivy knocked out her school work quickly and entertained herself while mommy/daddy worked. Thankful Mimi and Leia brought us lunch that afternoon too.
Thursday was fun time after school while Mommy cleaned and organized the pantry/house then we all relaxed by out little fire column

Friday would have been the girls May Day Play Day at school so we did lots of playing at Mimi's. Ivy practiced her back flip she mastered and taught Katie to do one, all the girls swam in the pool and then had a girls spend the night party with Mimi


Mommy and daddy FaceTimed our girl at bed time Friday and when she woke up Saturday


Breakfast with Mimi is always yummy and made to order


Morning fun at Mimi's before the parents arrived


We convinced daddy to get in the 72 degree water with the girls, such a trooper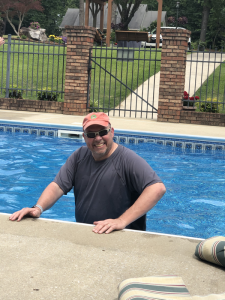 Alex shared her cake she made that day then we went to neighbor's house for a private mini concert