Mother's Day was fantastic! Chris set his alarm to wake up early to make sure he was up before Lisa to fix breakfast. Breakfast was served a few minutes after Lisa got up. He fixed a yummy breakfast of omelets with steak, peppers, tomatoes, and pepperchinees, hash browns, and cinnamon rolls then he cleaned up the table while mommy got to snuggle with the girlies. We all ended up on the couch snuggling to FaceTime Mimi and Deedee then watched an old movie, "What a Girl Wants" together. A morning full of sweet time, unrushed, and snuggles started the day off right.
Snuggles, cards, and yummy breakfast


Face-Timing our Mimi and Deedee 🙂

We got to Mimis a little before noon to give her hugs on Mother's Day. She was sitting in the swing ready to greet us. The girls always comment on how they love riding up and seeing her in the swing waiting on us. We sat with her and had a few minutes before a neighbor came by to say happy Mother's Day then the Rhoads arrived to join the visit. Mimi had prepped all the veggies and sides and marinated the steaks but Chris and Mark finished cooking lunch for the moms. After lunch we all sat around visiting by the pool and in the swings, girls swam, rode the golf-cart, or chilled with adults. Time together is sweeter these days after being on lockdown and all the uncertainty recently.
Photo Ops at Mimi's house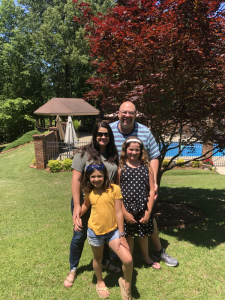 These two were our water bugs


Nap after fixing breakfast and lupper

Mother's Day evening Chris put a fountain Mimi gave me for the front porch and we got to sit out on the porch listening and relaxing together. After a nice relaxing bath we enjoyed ice cream together as a family then ended the night snuggled up watching a new show together. A perfect ending to a day with our girls, Chris, Mimi, and the Rhoads.