What a different Easter this year was then any other year in our life! While some parts were different none of it differences was all negative. In fact in retrospect ever difference could have a positive twist.
It was different because all the churches were empty..yet we gathered together in our home to have church together as a little family and was not rushed.
It was different that many stores stores closed to give employees a day off…yet we were able to go to the store before Easter Day to get our supplies even if they did not have everything we wanted there was something there.
It was different that there were not community egg hunts…yet we got to have family egg hunts and connect with communities via zoom calls
It was different that everyone did not get dressed up…yet we had clothes and were comfy the whole day and there was less pressure to get the perfect family picture .
It was different that everyone did not get have big family gatherings..yet our little family got to gather with the Rhoads' and Mimi to fellowship and treasured it more this year than in the past
Always thankful to celebrate Easter! Three days after His death, Jesus returned and conquered death. He forgives us when we do not deserve it. Jesus provided the way to get to spend eternity with God in Heaven when our work here is done. Thank you God for being in control even in these uncertain times and showing us unconditional love to all your children.

Going through their loot from the Easter bunny


Breakfast with our little family. What a blessing it has been to have more meals gathered together with the COVID isolations


We got to mimi's and it was only drizzly raining so we got pictures infront of Papa's tree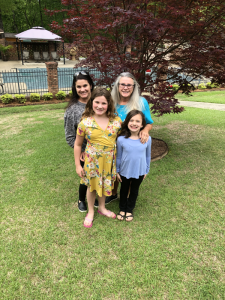 Family selfie before lunch feast


This lady always fixes a feast


Enjoying sweet fellowship


More selfies at lunch


We snapped picture of the Rhoads gang too after lunch


Mother-daughter bond is so special! I pray I have the kind of bond with my girls when they grow up that I have with Mimi


Then the adults went on a hunt for a special egg Mimi hid


Looking for their golden or silver egg


They always like finding those!


Sweet Mimi gave the girls a fun Easter basket too


Hunting eggs in the basement since it was rainy


Ending the day, the boys were not into our Hallmark 😉