Following spring break our little family has tried to do "COVID homeschool" and work all in one. Truth be told we have not been as successful as mommy wanted to be although we thought we set the expectations low the first week. We were told the end of the first week the school system would be rolling out a plan to help; we thought halleluiah, help is on the way. Unfortunately, the roll out was not what we expected, there would be no grades counted and the amount we were given was less than our "COVID Homeschool". There is not nearly the communication that we thought there would be from our school system. We have talked to friends from other systems and have been shocked a t the difference in the roll outs; ours not being on top of it as much as neighboring communities. Nevertheless we have a minimum plan sent by the school system, less than what we currently were doing and "online school" starts on Monday. Neither child has their first google class with their teacher and friends until Tuesday though so we would be winging it again on Monday. After what felt like a very long work week we decided to enjoy the weekend by not looking at computers, work, or worrying with school except for the last test of Chris's master program which he took Friday afternoon/evening.
Mommy and daddy both worked most the week; working exclusively from home is more work than going to work since we don't count the coffee breaks and social time with coworkers as work time like we would at the office. We did a little bit of school with the girls but did not stress too much with it since official "online school" starts the next week. Thankful these two little ladies are with us in our quarantine. Their joy is contagious and bring much laughter to the house.


Friday evening we so enjoyed being at Mimi's while Chris studied and took his test. Thankful to live nearby to give Chris quiet time to himself to study and destress from school


Saturday morning snuggles, so sweet


Blessed to have a great day with our Mimi! We snapped a picture and headed home before the stay at home order went into effect.


Of course we head out in the backyard with sweet neighbors celebrating Chris finishing school


Sunday Funday helping Stacy put up her summer shade … girls stayed at home incase I was stopped I could tell them I was taking a mask holder to my sister that Chris printed her on his 3D printer


The girls had fun doing water balloons and Ivy loved seeing Scotty that afternoon

We had not told the girls the roll out of "Online School" looked weak so Monday was the day we hoped would be a smooth start to "Online School" and hoped the girls would rally to do a amazing job. Unfortunately, it was NOT what we hoped for at all. We tried to write down a schedule and even let the girls have input to the start time however, they decided to go rogue. A half an hour before our start time one child decided she wanted to start their "online school" work because they were bored. The other child was askig for a extension because they were hungry. Both had multiple questions since they were not sure how to start online school and there was a huge mess in the kitchen from the other making trying to get a snack/breakfast. Chris was sheltered from the chaos locked away in his office but Lisa was in the middle with the make shift office in the dining room trying to complete a conference call before we scheduled to start our school time. The plan was beautiful but ended up being a no go with the girls wanting to work on different schedules and not adhering to the schedule agreed upon. Following a few breakdowns and momma losing it we finally got rolling and made it though the school portion of the day. Chris did come up to make himself and the girls lunch as Lisa worked. We never made it to the "First Day of Online School" picture like so many on Facebook did because it just was not one of the days where that was an option with fake smiles. We were just thankful, we made it through day one of the official first day of online school between the tears, yells, and mental exhaustion. It was not graceful day! It was a day where momma felt like a failure. It was a day that may have cured us from ever wanting to homeschool again. Thankful for the evening though! Mommy got dinner on the table and we got to sit down as a family, there was a sweet walk that evening with little Ivy and momma, after baths we got to have family snuggles watching TV then the girls headed to bed while Lisa and Chris both retreated to their work work to try to catch up from the day where everything was not done that needed to be done.
The only pictures from the first day of "online school" … mommy is a picture person but boy it was not the day for pictures. Thankful for the sweet dreams that night and that there would be a new day come dawn and second chances

Tuesday, Lisa was bound to make it a better day. She woke up early to start working on work yet knew a hour in that she still mentally needed a break. To make the day better instead of focusing on work work she decided to write a schedule down for the girls to follow for their school day. The morning ran slightly better than the morning before. Leia had a google hangout with her class at 9 and Ivy had one at 11. Mommy decided she would only work a few hours and see how the hangouts went and would help the other child with school instead of trying to get them to do it online or just giving directions. Yet, they still wanted to challenge everything and still did not want to follow a schedule minus the google hangout time with their class. A revelation came during one of their fits after momma watched them on their hangout time …. one question was asked: would they ever act the way they acted Monday and this morning with their teachers at school like they had their mother? Both quickly looked at momma like she was crazy at the thought of acting that way with a teacher and claimed they would never act this way for their teacher. Ah ha, that is way this is harder than expected…they were not home schooling they ar eCOVID schooling and making it harder than they ever would at school; they knew they were not acting the way they should and it showed with the one question. Yes there is more freedom with two kids verses a class room but the kids act worse at home than school. Working 30 hours a week and trying to homeschool when they acting like crazy kids, keep up the house, and dealing with life as it is now is mentally and emotionally taxing. By lunchtime on Tuesday, Lisa had decided lets just do art after lunch and forget the rest of school (it is optional anyways), get the items done for work work that needed to be turned in that day done, and develop a better strategy Wednesday. Tuesday afternoon, both girls did their normal "homework" they would have done after school. Lisa stopped working and made spaghetti for dinner and tried turning her brain off to give herself a mental break because it is exhausting feeling the mom-fail, Jesus take the wheel. Praying for a good night and sweet family time that restores our souls.
Art class was good and google hangout was fun seeing classmates … the rest was challenging but it was better than day 1's 'online school'


Chris worked on another 3D print Stacy asked him to do to store her N95 mask since they are re-using them at the hospital. Thankful for a tech nerd husband with his tech toys 😉

Wednesday was a new day full of hope and new beginnings. The day is a full work day for Lisa so most of school needs to be online and better defined than previously to keep us all on track and mentally stable. Lisa was up at 3:30am to create a detailed schedule (done on the computer this time to be more formal and so we can edit it easier when needed), alarms were set on a iphone to keep everything on track, and then mommy started working on work. Chris woke up at 5 to start working on a document for work too. Guess we are going with the motto. When the girls awoke mommy showed them the schedule and had a heart to heart about how things would be ran from now on to make homeschooling, working from home, and life work in our house for the foreseeable future. With a better attitude and a prayer for a good day, we started the school and work day. It ran so much better! The girls followed the schedule and did not try deviating during the morning. Mommy even got a coffee break on the porch with a sweet neighbor; so good having a few minutes to decompress and catch up with a sweet friend even if we were sitting on opposite ends of the porch. We all took brain breaks throughout the morning too. The girls had finished the assignments the school had sent so when aunt Stacy called about lunch to see about taking the girls to Mimi's while Chris and Lisa both worked. The girls enjoyed time with Mimi, walking around the neighborhood and riding the golf cart while Chris and Lisa both got most of their work finished then even got a short nap before they headed back home. We decided to go to support a local food truck who happened to be a neighbor of the Rhoads' that evening. Since the truck was near the Rhoads' we ate outside at their house with them before Chris took Leia home for a bath, she was hot outside. Lisa and Ivy stayed a little longer to enjoy a s'more and sweet fellowship before heading home for a little family time. So thankful for a better day and getting to go to bed without the failed feelings; praying for a better night sleep to.

We got dinner at the Rhoad's neighbor food truck to support them. Chris took Leia home while Ivy played in the water and enjoyed s'mores before mommy and Ivy headed home


We say it frequent but boy are we grateful for these two sleeping beauties

Thursday ran fairly smooth. Everyone followed our schedule. They girls did school academics and we rolled into Home Economics just before lunch (aka cleaning the house; tomorrow Home Ec will be more fun). It was nice having little helpers while doing a deep clean and shaved some time off the job; many hands make work light. We were done by mid afternoon with little planned. Mimi and Stacy had asked about the possibility of dying Easter eggs so we decided to do it. After all mental health is important and helps keep your immune system strong. We grilled out and ate outside to keep the social distance then we set up our area to dye the Easter eggs. We love the tradition of dying the eggs together; we did miss Mark this year as he was home working long hours. My hope is that we get to do it together for years and years to come. Blessed to get a couple hours of normalcy with family and being able to keep our family traditional alive.
My man grilling while the sides were roasted inside and we had sweet fellowshipped


The girls all wanted to visit Buddy too


Most of the day was spent outside though and we got to dye eggs after dinner


Love their personalities


Strong ladies…strong bond


Traditional collage of Easter egg dying fun


Chris preferred to chill on the porch while we dyed eggs


Our egg-cellent creations

This Friday was good Friday and it is good indeed. A Friday where we celebrate Jesus's giving up His life to redeem His people that has sinned and separated ourselves from Him; a Friday that was the worst day in Jesus's life is now called good. He showed grace and love to us when we did not deserve it. I pray His love and mercy is shown to us now during this time in a world of uncertainty and sometimes fearfulness of the unknown. We pray our focus is on where God wants it to be and we are able to show the love He gives to us to others. After all, one day the worst day in our life might be called good too if we learn, grow, and it is used to better us and those we love. We were blessed to get to have a late start this morning and few snuggles. Chris headed to go golf midmorning; we were glad he is done with school and could do something fun and would get to use his new clubs. The Comfort girls did a little bit of school then decided to make it Friday fun-day by baking Easter cakes for the girls to decorate. As we pulled them out of the oven the eye doctor called to say our glasses were ready but they requested no kids when picking up; we had been waiting and calling about the glasses a few weeks so really wanted to get them. The girls walked down to a neighbors to jump on their air track while Lisa ran to grab them at our curbside pickup appointment time. Afterwards Lisa sat out by the fire pit with he neighbor, socially distanced to catch up before we headed back home A little bit later we picked up the Rhoads and headed to Mimi's for girls afternoon since Chris was not going to be home until late. The girls had fun riding the golf cart and simply being kids. We all enjoyed the family time and togetherness with eh fire pit keeping us warm. The little girls were not ready for the fun to end so they asked about staying the night while Lisa took Stacy home then headed home to see Chris and enjoy what we had left of the night.

We home schooled a little in the morning


Then shifted out focus to having a little more fun


Bunny cakes made to decorate for Easter


Thankful for sweet neighbors for the girls to walk down and hangout with while Lisa picked up glasses we had been waiting 4 weeks to get; hope they help Ivy's convergence problem like they have Leia's!


Chris took a selfie on Wes's phone playing golf while Lisa and the girls chilled out at Mimi's for the afternoon/evening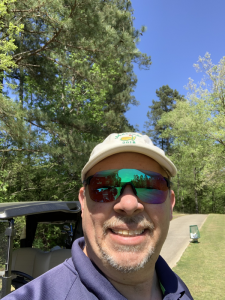 The girlies decided to have a girls night at Mimi's


Love that they get to have this special time together

Saturday was a quiet morning at the Comfort household as Chris slept in and Lisa enjoyed a cup of tea and cup of coffee in the stillness. Mimi texted that our girls were up at 7 while Sara and Katie slept in a little. However they were all up for breakfast and eating at 8:30 and Chris got up about that time too. We worked around the house most of the day taking care of things that we had been putting off with work and schooling but did manage a bike ride that afternoon. The girls had a great time playing at Mimi's. Aunt Stacy went out to pick up her girls so brought our girlies back home too. We got to have a virtual happy hour with Dawn and Ricky to catch up while the girls decorated their cakes then ordered pizza for dinner since it was way too late to cook when we looked up. That evening we played Catan with neighbors on the patio and let the kids play before calling it a night. What a great day getting things done and catching up with people we love.
Snuggles with Mimi before Sara and Katie got up


Chill time after they up while Mimi did breakfast


Breakfast at Mimi's is always yummy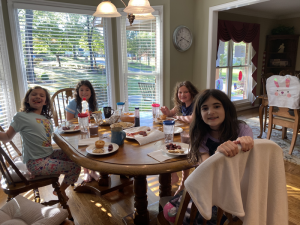 Love they all had a morning devotion and prayer together!


The girls did a awesome job decorating their easter cakes


Chris ready to pick up pizza and Leia modeling her cute new glasses


Fun evening with neighbors