Leia's girls scout troop took an overnight trip to Great Wolf Lodge in LaGrange, GA and we were lucky enough to go and spend time with some fabulous little girls and their moms. It was a very low stress, do what you want kind of trip. Leia and Lisa drove over just the two of them. Lisa was surprised on the way Leia told her she left her phone at home so we could just talk and spend time together; love that girl and some quality time with her. The scouts had three rooms, each with three girls and their moms in the room. We checked in for our room since we were the first ones there so Leia got to claim the top bunk. We roomed with Alice/Courtney and Lillian/Leslie. Alice and Courtney got there now long after us so we all headed down to the water park together. Leia and Alice headed straight to the lazy river while the moms looked for chairs. Lisa had to give the key to Leslie and get an ear plug but was heading up the stairs for our first water slide as soon as she got back to the park. We did the family slide a couple times but other than that Leia opted to play in the last river, wave pool, and chill in the hot top. We were water logged by the evening so we took quick showers and went to get Leia a Wolf Pass to do the ropes course, arcade, and magic quest game. The troop did have dinner together and did a photo scavenger hunt that evening before we all called it a night. Breakfast was more by room the next morning except Lisa and Leia woke up two hours before everyone else so we had breakfast on our own then played the magic quest game a while as we waited on the others to wake. We did sit with the rest of our room later that morning while they ate then the kids played magic quest and bingo as the moms took turns loading our car. We were home at noon on Sunday to get ready for the week ahead and see sweet Ivy and Mimi a little.
Chef Ivy helped cook breakfast before mommy and sissy left for Leia's Girl Scout trip

Group picture of the troop girls that got to go. They were missing 5 of their sweet friends


All ready for some fun!


Our little monkey was excited to get a wolf pass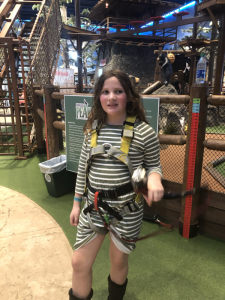 Dinner with the Girl Scout troop


Looking at the photo scavenger hunt pics


Momma/daughter breakfast


Bingo with friends before we left

Daddy took a couple pictures of his and Ivy's day. He said they went to Hobby Lobby and Micheals looking for a bracelet set Ivy wanted then had Habanero's for lunch before coming home to watch a movie. Ivy headed outside to ride bikes and play with Alex before she and Chris went to Yummy Bowl for dinner then back home for the evening. Ivy decided to clean out a cabinet that has been needing cleaning out for quite some time then she and Chris watched some shows before she fell asleep and he went back to do school work.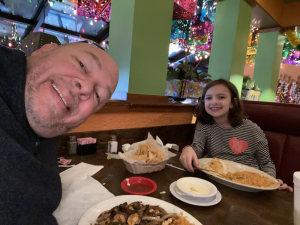 Sunday morning, Chris had to catch a flight early. He seems to normally travel on Super Bowl Sunday. He took Ivy to Mimi's house so she could hang out until mommy and sissy got back. Mimi and Ivy started off their morning painting Ivy's finger and toe nails then played beauty shop before going Ivy requested to go shopping at Target. Of course they also rode the golf cart a few times and explored Mimi's yard too since it was a nice outside. Thankful Mimi said she would just bring Ivy home and come spend the night with us to take the girls to school Monday morning so Lisa could go in early. Plus, it gave Lisa and Leia some time to visit Mimi too, blessed 🙂


Girl night … are we watching the super bowl or not??? 😉