This is the first Christmas Eve we woke up without both little monkeys at home and missed little Ivy's humor and energy waking up Christmas Eve. We were up and ready to head to Mimi's by 8:30 but waited on Grandpa and Deedee to arrive to head to Mimi's. We actually beat the Rhoads's, first time to Mimi's. They arrived 20 or 30 minutes after us and uncle Mark reminded us to do family pictures. He's so good about that!
Kristi and Stephanie arrived a little bit later. Sara and Ivy immediately met them to help with the babies; those two love little ones. We grabbed a big group shot before Mark prayed and we all enjoyed a barbecue lunch. Then the adults played a game of secret Santa and the kids opened their gifts. Kristi and Stephanie's afternoon plans weren't as packed as normal so we got to sit and enjoy a little more time together this year. It was nice having some relaxation time.
We headed to Christmas Eve service at Mimi's church that afternoon. It's nice going back to the church where Lisa grew up and Mimi having her family with her there again. One of the girls favorite part of the service is the candle light part singing silent night. It is a very peaceful time and sweet experience. After the service we went back to Mimi's for leftovers then headed home.
Traditionally the girls have slept in mommy and daddy's room but this year they decided to do what Sara and Katie does. Apparently they told our girls they get to stay up as late as they want playing cards and watching TV in their room. So the girlies started a new tradition this year after putting cookies and milk out for Santa and sprinkling reindeer food in the lawn. There was lots of laughter coming from their room and they were feeding off each other's energy. Mommy finally went in and laid down to help them calm down at 10 since they were bouncing off the walls and we knew unlike their cousins our girls would be up early even though they said they'd sleep in some if they got to stay up late.
Annual photo's by the tree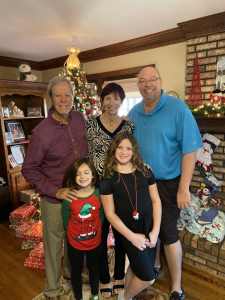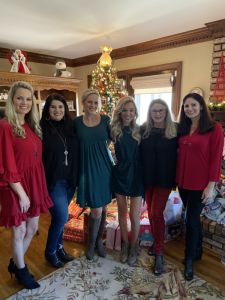 Family shot … we took 6 shots and still did not get one with everyone looking but love this crew


These two love babies!!


We all enjoyed sweet baby snuggles


The adults played our annual dirty Santa while the kids exchanged presents


Leia enjoyed playing cards with Deedee


We joined Mimi at her church for Christmas Eve candle light service again this year, such a sweet time together remembering the reason we celebrate the season


Chris is so funny getting a picture just of him. We headed home not long after the service and the girlies got some energy and started flying around the house


They also enjoyed their tradition of giving each other their presents they picked out and bought themselves on Christmas Eve night. Of course afterwards they disappeared to the playroom to play for a little while


Before the monkeys retired for the night they set out the cookies and milk for the big man himself