The weekend was much slower than Friday. Saturday mommy went into work so the girls hung out at home with Chris with the exception of going out to lunch. Saturday evening we had the Talley's over for game night and fellowship. Alex ended up spending the night with the girls too. Sunday, we skipped church to have a family morning then headed to Mimi's to make Christmas cookies with the cousins. Leia got a one-on-one with Mimi that night while Ivy came home. Leia opted to go Christmas shopping to buy sissy something special and then they hang out at Mimi's house. Daddy worked on computer stuff in his office while mommy and Ivy did a few chores upstairs then snuggled to watch a movie she'd picked then we headed to bed. Monday morning was a low key one at our house while Mimi took Leia back to see Star Wars again. We all met up at McWane afterwards for a little fun since the girlies wanted to go back. We traded kiddos for Ivy to have one-on-one with Mimi and Leia to have special time with mommy and daddy. Ivy got to get a mani and pedi, shop for sissy a special surprise then opted to chill at Mimi's house too.
Spend the night fun


We got to Mimi's early to bake then Mimi played cards with the girlie when Sara and Katie arrived


We skipped the baking part of cookies decorating since the Rhoads wanted to do it Saturday but had fun decorating cookies. Sara and Ivy toasted to a job well done afterwards too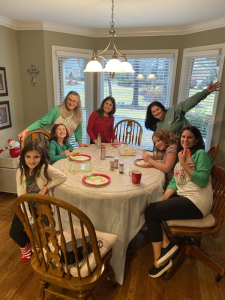 Lunch at Mimi's before we headed home for Leia to have a little one-on-one time

Very few one-on-one pics taken since we were in the moment but Mimi sent a couple.


Mommy and Ivy managed to get one picture too of Ivy finishing a puzzle Monday morning that we had worked on

Fun at McWane before Ivy headed for her one on one and Leia head to some special time with mommy and daddy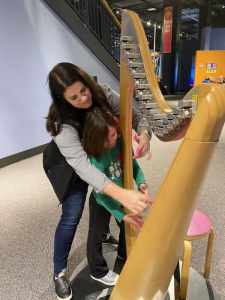 Ivy's one-on-one with Mimi she got to go get a pedi and mani then opted to go back to Mimi's to hang out as she requested


Leia opted to go to dinner at Outback then we we went back home for baths, PJs, and snuggles on the couch before bedtime