The girls got to leisurely wake up as they had no school Friday. We have been having to wake them up for school so Leia slept in until 6:00. Ivy was up by 7 despite the fact they both said they were sleeping in late after a late night Thursday night. Mommy should have known no school meant waking early. Daddy had to go into work, his last day of the year so mommy did get sweet snuggles and to enjoy a leisure breakfast before picking up the house a little and heading down to the Talley's for cooking decorating fun.
Cookie making and decorating is always fun with neighbors and friends


Mommy and Leia's cookies. Ivy was more interested in playing with Bailey and eating cookies as she decorated them

We were not ready for the fun to end after we finished our cookies so we all decided to go to McWane. Before we left though we made sure to clean up; trying to teach the girls good habits. We explored every floor at McWane and even got to go into itty bitty kingdom since Max was with us too. The kids got hungry in the middle of our exploration so we all even got to get a snack/lunch at McWane. Such a fun packed day thus far. We had an awesome time with the Talley's!
Ground floor right before we left


We had so much fun on the first floor together


Bubbles are always fun


Our little engineers having fun


Shows their personalities so well


Wind tunnel


Shapes pegs are always a favorite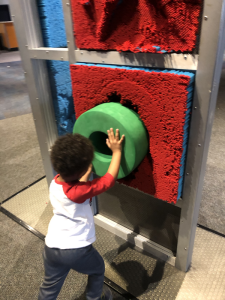 Leia found one of the funnest areas where we all played soccer, drums, and volleyball together


Second floor fun … dinosaur fossils and Itty Bitty kingdom


Thankful Max was with us so we all got to explore the Itty Bitty Kingdom since we aged out of it


Third floor has the traveling exhibit so we enjoyed the zip line, train exhibits, and playing piano with our feet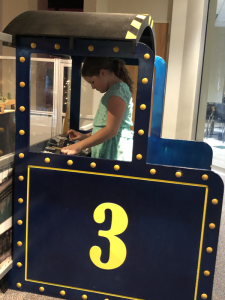 Of course we took the photo ops that were provided too

After a already full day we still had our one-on-one time planned for the evening. Chris planned on taking Leia to see Star Wars at a new theater here in town with one of the biggest screens around. Ivy was suppose to plan our mommy-daughter night but kept changing up what we were going to do. We ended up making homemade vanilla ice-cream, she wanted to try Yummy Bowl, and coming back home for warm baths and Christmas movie snuggles; a perfect, low-key, and relaxing evening after a long day. When Chris and Leia got home we were already snuggled in bed half a sleep but woke up for a few minutes to hear about the movie and how much they liked it before we all said good night.
Leia and Chris bonded over Star Wars. Leia did not that both Princess Leia and Kylo character was written off, even though Chris said they knew that Princess Leia's character would be but the other was a surprise. Love their enthusiasm for these movies together


Ivy ordered homemade ice-cream on our mommy-Ivy night


She gave yummy bowl two thumbs up. She wanted to try it after hearing daddy talk so much about it


Selfies snuggles with my girl is always full of belly laughs