Ivy's teacher has a mystery reader come in to read to the class periodically. Lisa had signed up in December but her teacher has to go somewhere so requested a change of date. It ended up working out for her to come on the same day as the program. The kids all are given clues to try to guess who is coming. No one guessed it was Ivy's mom. Mimi came to hang out with us too. We loved getting to see Ivy's class and answer questions they had just before lunch. We also joined them for lunch afterwards and got to see Katie and Leia too since all their lunches overlap before we went to the gym to save our seats.
Ivy did the same program that her sister and cousins did before her. Second grade always does one on immigration since it goes along with their school curriculum. Of course, we got Ivy a different outfit and each of their classes were featured in different songs. Thankful Mimi went in right at noon to save us 4 seats for so we could be up front to see our little immigrant perform. Leia got to check out to watch too. Unfortunately it was a mad house afterwards and Mimi bolted out too so we did not get pictures afterwards with her cheering crowd but she knew Mimi, sister, Daddy, and Mommy was there watching her star performance and were all proud of her.
Class picture before their performance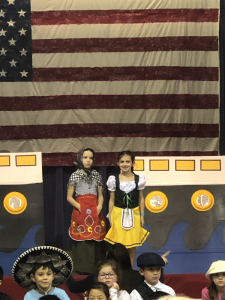 Ivy's class was featured in "I am Thankful to be an American"


They did a great job!

We had a free night so we decided to decorate the house for our Comfort Christmas. Leia said it was the best time of the year