Friday morning the girls got to skip school to head out of town. We meet up at BHM airport for Mimi's 65th birthday trip with the Rhoads. Mark overcame his fear and made it to Chicago in tact. Aunt Diane and uncle Dennis picked us up to drive us through the various towns, Greek town, china town, little Italy, etc. Of course we were all hungry so our first stop to get out of the car was to eat.
Diane picked a yummy Itialian an restaurant named, Connie's. The decorations were marvelous and the food delicious. The head waiter game by to greet us and bring the kids dough balls to play them came back later to play with the girls. The hostess took several pictures for us in a couple different spots. As soon as Ivy got still she fell asleep. We ordered family style, getting calamari, salads, and pizzas. The fellowship was the best.
We got to drive by the Sox stadium and United Center where the Chicago Bulls played. The girls were tired so next stop was the hotel to get settled in our rooms.as we approached the city Diane said, "the loop was lighting up". We found out the loop is the nickname for downtown Chicago and it had to do with how the interstates looped around the city. The guys took the girls to the pool while the ladies went to get bottled water and wine. We all joined back together and made sure we all were good with Saturday's plans before half the gang called it a night and the rest headed to Mimi's room for room service before bedtime.
At the airport ready for out adventure for Mimi's


At Connie's for lunch


The chef brought the girls dough out to play with and ended up coming back to play with them a few minutes


We drove by the United Center, Sox stadium, and where the Chicago's Black Hawks played.


Sweet Mimi got the girls room service after they swam and our long travel day

Saturday, was Mimi's real birthday; a day to celebrate. We all were up early to start our first full day in the Windy City. To everyones surprise Mimi had left a birthday blessings card for each oh us. Lisa and the girls headed next door as soon as we woke up for birthday hugs. The Rhoads girls game a little later and we all have Mimi her cards. When the boys got up we let her open her birthday surprises before heading to breakfast.
Glad we arrived early since at 8 the wait was already 45 minutes; by the time we left it was over 2.5 hours for a group of 4. The food was great! We shared 4 dishes between the adults but easily could have done 3 and kids could've shared kid meals too. Then they gave Mimi a red velvet cake complete with a candle so we could sing happy Birthday afterwards too. Needless to say we all left full as we headed to the river front.
We paused on the river front to see the bridge being raised and quick photo op before making our way to the boat. The boat took us on a architectural tour in the river through the center of the city. It was quite interesting. The guide spoke more of the architects and structural engineers than what I think she normal trying to cater to the audience of architecture students aboard. We headed back up to the street above and walked down Michington Avenue.
The girls were i to shopping. We stopped at Under Armor and Uggs before the guys decided they were done shopping and walked the long way around the city back to the hotel. The ladies continued going in stores like Sepora and Ultra before we decided we needed to make our way down to The Drake for our high noon tea reservation.
Auntie Diane meet us at tea while Dennis meet the guys and walked over to Sweet Water to watch football. The girls all enjoyed a Shirley Temple while ladies enjoyed a drink then we ordered our teas. Mimi and Lisa got sugar plum, Stacy and Diane got nutcracker, Sara and a black tea, and leia tried a white tea. The treats were served in a elegant tower. Leia and ivy neither seemed to care for much but Sara and Katie liked the turkey and cheese. It was high class and sophisticated.
Once we were done there we started our venture back towards the hotel stopping at a variety of stores. The girls found a mall and went to American Girl Store, Lego store, auntie Anne's for pretzels, Katie stopped by a sport store, and we got a Christmas ornament. Lisa texted Chris and requested he get Ivy back to hotel since she seemed off and said she wanted to go lay down while the rest of us went to Toys-R-Us and Disney store before returning to the hotel. Ivy was asleep and had started running a fever so we were flexible with dinner plans.
Aunt Diane helped find a nearby restaurant that we ordered in from and uncle Dennis and Mark picked it up. We found a long table and all sat around it eating the salads, lasagna, and chicken piccata over fabulous fellowship. Lisa delivered Chris's dinner in the room as Ivy slept through it. After dinner we pulled out the cake Aunt Diane made to sing happy birthday to Mimi. Again, Lisa delivered Chris's to the room. We lingered a little longer talking and laughing before the other 3 girls started requesting to go to bed.
As we started to get ready for bed we felt Ivy again and Chris requested we get a thermometer. Lisa and Mark walked back down to Walgreens to get one. Sure enough when we got back and checked Ivy it read 104. After a quick bath to cook her down it was back at 102. We went into fever protocol in our room and prayed that everyone would wake up feeling 100% in the morning.
We woke up and headed to Mimi's room right away to wish her a happy birthday


All the girlies made Mimi a homemade card; our favorite kind of cards


Love these ladies


The boys joined us when they got up and Mimi got to open her presents


On the way to breakfast Katie found a Nutella restaurant that she wanted to try before leaving


Waiting for breakfast


Yummy birthday breakfast. Mimi was treated to a red velvet cake and we all got to sing happy birthday to her. Sara said it was favorite breakfast.


Photo op on way to our Architectural tour


On the tour


We saw some cool buildings, heard all about the construction and design


It was a little chilly on our tour and Sara needed a nappy


The opened the bridge right before we went under it for a sailboat


Warming up downstairs with hot chocolate


The girls headed shopping

High noon tea at The Drake to celebrate Mimi's big day


After High Noon Tea photo snap


We hit a few stores for the kids after tea and got our Christmas ornament for the trip


Sweet Ivy did not make it thru the shopping trip though. She was not feeling well and ended up getting a high fever so she was out for the night. We started praying she would rest it off and be back to her normal self tomorrow but ended up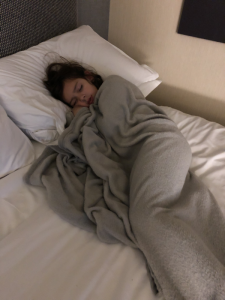 We all ended up bringing dinner back to the hotel and celebrating with Mimi's cake, auntie Diane made


The Rhoads' got a picture with auntie Diane and uncle Dennis before they left for the evening and we all thanked them for hanging out with us and helping plan our Chicago adventure

The night was long waking up to check on our little princess. At 1 am we were up giving a cool bath. At 2:15 we Ivy woke up with a nightmare shaking and wanting to make sure mommy, daddy and sissy was ok. We ended up having to turn on the light to show Ivy we all were together. Mommy woke up a few other times as fever spiked and finally broke just after sunrise. Ivy said she was hungry so we all got up to get dressed and meet up for breakfast.
We tried another restaurant named Yolk. There was not have real cream for coffee so Lisa was bummed. It was split on which breakfast joint was the best with out crew. Both were good though and everyone got energy to explore the city. Our first stop after breakfast was Navy Pier. We walked down the pier taking in the sights, explored the shops inside, got Garrett's Popcorn, and ride the Farris wheel around three times.
We got to read a few interesting facts while we were in line for the Farris Wheel:
* The Navy Pier is 103 years old
* Water front space 50 acres
* Length of pier is 3300 ft long or 0.625 miles
* There are 42 gondaloas on Farris wheel, 1 has glass bottom.
* It opened in 1916
* There are more than 10k bolts hold pier together
* Famous movies filmed at the pier are Dark Knight, Divergent, and many more
We planned to stop by Molly's Cupcake after walking around the Pier per the girls request. They had talked to another family the night before and heard it was good. On the way we stumbled onto a fun park across from Molly's for the girls and stopped for a little bit. The ambience was great. Girls loved the swing seats. The taste of the treats was split though. Neither Leia or Ivy liked their treats but Sara and Katie did. Either way they all got a little more energy to head to Millennium Park.
We stopped by the hotel to drop off a few items we'd bought at Navy Pier since we were passing by the hotel. Chris stayed behind to make sure our Apple account was secure since we'd gotten several fraud alerts and he'd been there a few times. The rest of us headed to see the Bean and get a photo op with one of Chicago's landmarks. We walked around the park and saw where they were sitting up the outdoor ice rink. Unfortunately they were not opening for skating until next week so the girlies couldn't skate but we did have fun exploring the area and thought the art work was beautiful.
We venture to the adjacent park, Maggie C Daley. It was a incredible park! The girls had fun exploring the different areas of it. They were captains of the pirate ship. They climbed up up towers and got to slide down almost a dozen different slides. Even the adults got on a couple of the smaller slides to join in on the fun. Stacy and Mark left to go get our names in a wait list for dinner while the rest of the adults let the kids enjoy the park as long as possible.
We drug the kids away but stopped by to get a pre-dinner appetizer … a Chicago dog from a food truck on the way to Purple Pig. We were not sure the kids (or boys) would like the menu but they all appease us and tried some new items. Of course afterwards Katie went to Nutella to get something and Mark went to Sweet Water while the rest of us headed back to hotel to let the girls swim.
They brought their stuff back to eat by the pool and everyone else enjoyed another piece of Mimi's bday cake or popcorn. Mimi and Stacy headed up to get showers and start packing while Mark took Sara and Ivy to work out and Lisa watched Katie and Leia swam. We all merged in the fitness room for a quick turn on a machine before we headed back upstairs. All the ladies hung out in Mimi's room a little that evening then Leia got her night with Mimi. Ivy declines the invitation to stay with mommy and daddy so Leia got some sweet one on one time.
Sunday morning mommy had a snuggle bug when we woke up. We were thankful that sweet Ivy's fever broke during the night and she was more to herself to enjoy touring Chicago


Family breakfast to energize everyone for the day ahead


Exploring Navy Pier


Margaritaville chair on the pier


At the end of the pier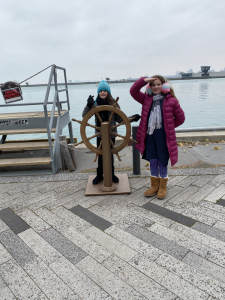 Don't be crabby chair … one person needed to read it 😉


Riding the Farris Wheel


Mark was left holding Stacy's bag since he did not want to ride but took a great picture for us


On our ride


Our ride and view


Exploring the gardens and shops at Navy Pier


We got to try Garrett's popcorn, a Chicago staple


Fun at a random park on the way to Molly's cupcake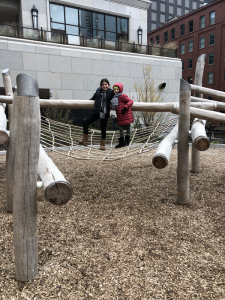 The boys relaxed while the girlies played


The girls were excited to go to Molly's Cupcake since a friend they met at the pool told them about it and they added it to our agenda themselves


We walked to Millennium Park after our treat


Photo op at the bean


Exploring the area


The outdoor ice rink was ready but not open to the public yet


Maggie C Daley Park


Even the adults got in on the slide fun


Enjoyed taking in the many city sites


Chicago dog from a food truck was amazing!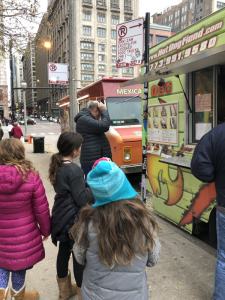 The John Hancock Building allowed us some beautiful views of the city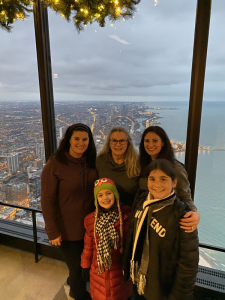 Chris showed the girls the interactive map of the city then they all got a turn


On the balcony area


Mark and Stacy took Katie to Nutella while the rest of us headed back to the hotel


Swimming at the hotel


After their swim the girls worked out since the fitness room was empty


Sunday night Mimi got a one on one with Mimi. She was spoiled and got to order room service.
Ivy wanted to chill with mommy/daddy. We had fun laughing and taking selfies with silly faces

To the girls delight when we woke snow was falling when we woke up. We all bundled up walk to breakfast in the snow. Of course we stopped for a couple photo ops and enjoyed the fresh falling snow. Chris had ran to take something back so was a little late arriving since he was given the wrong restaurant name before leaving. Breakfast was good; Katie said it was her favorite breakfast.
Walking in the snow to breakfast


Chris met us at the restaurant after returning medicine to Walgreens. Thankful he called since his wife might have went to the wrong restaurant or told him the wrong one


Pausing to play in the snow a few minutes before heading back to the hotel to pack up and check out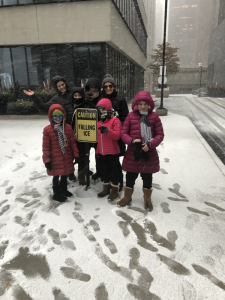 We headed back to the hotel to pack up since our plane was suppose to take off at 1:55 and Chris said we needed to head to the airport a little earlier with the weather. On the way our Lyft driver told us about a plane that slid off the runway at O'Hara. We decided to keep that information to ourselves and not let the Rhoads know with Marks fear of flying. We all got to the gate to drop off luggage then half of us went to get lunch. The girls did amazing entertaining themselves until it was time to board. After an hour sitting on the plane to load luggage and de-ice we we finally took off to head to sweet home Alabama.
Entertaining themselves at the hotel before we headed to the airport


Homeward bound

Trip favorites:
* Mimi's favorite part was that everyone took the whole weekend to celebrate her and spend time with her.
* Chris's favorite was the Farris Wheel
* Mark's favorite part was landing in the plane …. he doesn't like flying
* Stacy's favorite part was exploring a new city, seeing the kids and Mimi expressions
* Lisa's favorite was being together and experiencing a new city together
* Ivy's favorite was the Farris Wheel
* Leia's favorite thing was it snowed
* Katie's favorite was Maggie's C Daley playground and going to Nutella
* Sara's was breakfast on Mimi's Birthday