Sunday morning was another lazy morning in our household. We did a little cleaning, listened to church online since they were not having in-service still, the girls played, and then Mimi came over to see us for a little bit before we went to lupper with the Rhoads at Pita Stop. After a good meal and sweet fellowship the Rhoads headed home while the rest of us headed to Glow Wild at Birmingham Zoo for a little festive fun. We headed straight to the train and then walked around looking at all the lights until we saw everything and was ready to head out. The Comfort ladies went home with Mimi for a girls spend the night party while Chris went home to watch Wonder Woman. On the way out Ivy declared that this was one of the best nights. Love the sweet memory and hearing the excitement in her voice. On the way to Mimi's we drove by a few more lights then got baths and relaxed watching TV until bed time. Thankful for the evening with our Mimi.

Light tunnel on the way to the train


Train ride fun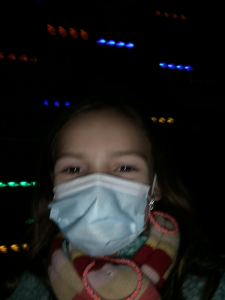 The light swings were a big hit!


Ivy feeding the deer with her hand


Mimi and the monkey


Leia loved the arctic animal display


Group selfie walking around


Photo op by the tree


Dolphin row on the way to the carousal


These little ladies have always loved a good carousal ride


Love bird selfie