Love the weekends with school schedule during the week and our sweet time together simply just being together. Mimi helped mommy in the yard Friday then joined us for our fun Friday night while Ivy was at a friends house. We toasted to a fun evening, daddy joined us after work, and then we meet the Rhoads at Pita Stop for dinner before they headed to Katie's soccer game and we headed to pick up Ivy. We enjoyed the rest of the evening at home enjoying sweet, precious time together.

Mommy went to the mom's horse back riding group and got signs for the girls to represent the ranch they go too. They get their names in a drawing for a chance to get a free riding lesson for putting the signs up and sending in the picture. We are all hoping they win one.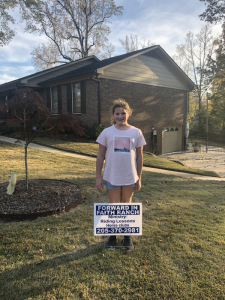 Sunday we rode out to Mimi's to see her for a little bit. Leia got a headache so hung out inside with daddy most the day but mommy, Ivy, and Mimi enjoyed the nice weather outside. Of course, Ivy wanted a selfie since Mimi had a selfie with Leia and mommy Friday night. So enjoy sweet time with our Mimi and our little family.


Love that Ivy makes wind to fly her kite and her energetic, fun spirit; I pray she never loses it!