Ivy had fun at the first cookie booth we could attend this year Friday afternoon. We have been out of town or busy for every other booth. Loved watching them sell and have fun together.

After the cookie booth Lisa and the girls headed to Mimi's to spend the night. Chris said he needed to study for his test this weekend. he was able to take it on Saturday around lunch so he could enjoy the rest of the our weekend. While he studied we enjoyed sweet time with Mimi, had a fun morning riding the golf cart and playing. The time fly by and we had to head back home before we knew it to pick up the girls corsages for the evening events.

Saturday evening was the much anticipate father-daughter dance with Leia and Ivy's friends from Girl Scouts. The girls have been talking about it since the date had been set for it. Love the excitement they have to spend time with their daddy and that Girl Scouts gives them the opportunity to spend a evening with friends and the dads. The girls picked out their dresses all by themselves. Leia went shoe shopping in Lisa's closet since we wear the same size now and let mommy help with her hair. Ivy wanted her hair down and wanted to be the only one to brush it herself.


We snagged a family pic too since most of us were dressed up


Mommy decided she needed a pic with daddy too and Ivy had fun photo bombing Chris and Leia's pic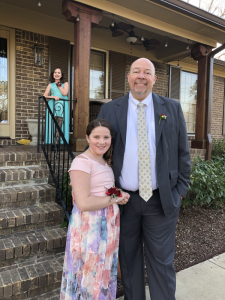 The are off on their date night


Mommy went out with Mimi for a girls night out while the little girls went with Daddy and was waiting on pictures from their dinner and dance. Mommy sent daddy them when he said not to forget to take pics of our mother-daughter night out


Daddy's dinner double date. The girls decided that their tradition would be to go to Firebirds every Girl Scout father-daughter dance. They both got salmon and Chris got "spicy steak" according to the girls.


The girls were excited they were the first ones at the dance but their friends were right behind them


They had fun dancing the night away, taking silly pictures, and laughing … can you tell who likes their picture taken the most 😉


Dancing with daddy


What a great night

After a fun night with Girl Scouts Leia got to go to her first cookie booth on Saturday at the Summit but mommy forgot to get a picture; thankful for the mom at Ivy's booth that took a picture