How did time go so quick since our Princess Leia graced us with her beautiful smile?!? She turned 10 and we celebrated big time. She talked her sister into opening up one gift on her birthday eve; Ivy bought her a bracelet with her own money. They chatted the evening away as she went to bed for the last time as a 9 year old. Mommy had to go wake her up on big day as daddy went to pick up her breakfast pick. She woke up to breakfast of choice: donuts, bacon, and eggs. Then opted to open her presents from mommy, daddy, and sissy next since she got 10 gifts for 10 years; Leia even let Ivy open some of her gifts. Mommy headed to work while daddy took the girlies to school but Leia got checked out at lunch for some special one on on time with mommy.
Leia's 10 gifts were:
1. Happy Birthday yard sign
2. $100 cash
3. Engineering book
4. Joke book
5. Barbie unicorn she's been eyeing that we bought to give to a sweet friend
6. Purple tactical vest for family nerf gun fights
7. Squishes
8. Blanket
9. Necklace
10. Lego Land trip to be redeemed after Christmas
Leia chose to pick up lunch at Zaxbys to go home to eat and watch one 30 minute show before heading to Chuck-e-Cheese. We each got a 45 minute card to play together. It was fun that we were the only two playing. We played side by side for more of our time. Even when we didn't we were talking to each other. It was so much fun and special to get some one on one time together. We won almost 3,000 tickets and Leia elected to get a finger monkey to remember our time together instead of saving them. We called Mimi on our way home to see if she wanted to meet us at our house.
Mimi came over and Leia elected to go ahead open her gifts. Mimi has a 10th birthday tradition to give each grand daughter a real ring of their choice, 100 dollars, and couple toys of choice. Not long after opening her gifts Leia asked Mimi to go get sissy. These two sisters have such a special bond and they went into their own little world playing with Leia's new Barbie set and bringing up old sets. As they were playing Daddy came home early to see his birthday girl. Not long after he arrived Grandpa and Deedee came too. Of course, Leia was ready for open their gift too when they arrived. Deedee made her a beautiful card with $100 and measured her for a princess dress she asked Deedee to make. We all visited as the Rhoads arrived. Leia did not disappoint and immediately opened her surprise from them too, a lego set and $10 for her 10th birthday.
We all enjoyed just being together, fellowshipping. We catered in Leia's favorite meal, Moe's that night per her request. After everyone enjoyed a yummy meal we sang Happy Birthday to our birthday girl. We had brownies and ice-cream cake for treats then hung out a little more before Mimi and the Rhoad's headed home. The girls snuggled with Grandpa a little bit and before we knew it, it was time to go to bed and end our day of celebrating Princess Leia.
Sisters are sweet and they both have power bracelets now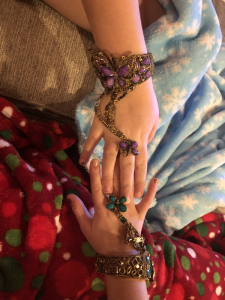 These girls were ready to party instead of going to bed on Leia's last night as a 9 year old

Good morning to our birthday girl: Ivy sang her Happy birthday


Our elf, Cupcake's surprise for Leia


Leia opened her first gift to look outside


Morning breakfast singing happy birthday to our girl


Present time opening the rest of her gifts. Ivy gave her a special Happy Birthday song too


Leia liked walking around her sign when we came home for lunch too


Special one on one time at Chuck-e-Cheese fun with my girl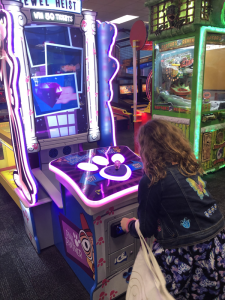 Mimi came to celebrate with us too


Deedee and Grandpa card had the prettiest girl on it!


Opening her gift from the Rhoads


Leia's favorite catered in and ice-cream cake for treat


Leia and Ivy had fun with grandpa and Deedee before bedtime