Thanksgiving this year was a very low key, lots of food, and family fun time. There was the small crowd with being just the Rhoads', Comfort's, and Mimi. We spent the morning at home chilling out watching Christmas hallmark movie and enjoying a late breakfast. Chris worked on school a little too before we headed to Mimi's about 11. We joined in on another Hallmark movie while the kids headed upstairs and to the basement playing. Mimi fried the turkeys and threw the sides into the oven. We late lupper that afternoon then the boys turned on the football game while the ladies all went outside. The adult girls enjoyed time in the swing talkeing while the little played in the cars. We all went back inside when it started to cool off for a game of Spinner before we all chilled out in the den a little bit before heading home for the evening to get ready for our elf, Cupcake return.
Ivy's Post:
It was just Mimi, Mark Stacy, Sara, Katie, Lisa, Leia, Ivy, and Chris. We had a great meal. after Thanksgiving are elf comes. we love doing stuff with are family.
This year mommy, Leia , and Ivy went and made hand print turkeys. Loved how they turned out! Now daddy needs to go make one so we have a family of turkeys.


Cupcake returned. The girls were so excited. Loved watching Ivy read her books.


Morning snuggles are the sweetest


Sweet Ivy had fun molding putty into different shapes


On the way to Mimi's Chris decided he need a neck brace following the crash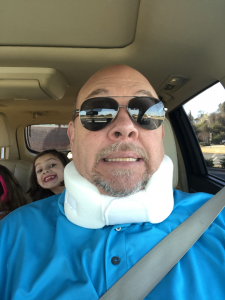 Thanksgiving at Mim's


Photo op before eating


Mimi makes the best fried turkey


Thankful to have Mimi's new oven to cook a yummy meal in this year


Family is a blessing …. missing those that were not with us today


After dinner the girls had fun playing


Love that Ivy wanted to help do the blog this year for Thanksgiving after looking at all the books recently