Friday the girls kicked off their long weekend with playdates at our house. Love hearing the sweet laughter from different rooms in our home and count each laugh as a blessing as our girlies have fun with friends. We had a girls night in until daddy got home from his work trip then enjoyed family time on the couch until bedtime.
The girls were ready to get out of school for their long weekend


We did not have regular old snacks after school we had treats to kick off a 3 day weekend with sweet friends


Can you tell baby girl likes their picture taken and which daughter mommy has to sneak a picture of … but big sister gets upset when there are not pictures of her in our family books

Daddy made it home Friday night but not in time for the father-daughter date night at church but that is ok since we had family snuggle time and watched Mako Mermaids


Leia caught me as we were going to bed and I snapped a picture of our angels sleeping

Saturday morning play, girls using imaginations while mommy sips coffee and daddy sleeps is pure happiness … LOVE, LOVE, LOVE this stage of life! Other than when Chris took the girls to ice skating lessons and they took mommy to drop her car off for a broadway show they mostly hung out at home lounging around, playing, and watching TV. Some days or weekends everyone needs time to chill at home and recharge.
Saturday morning play is so much fun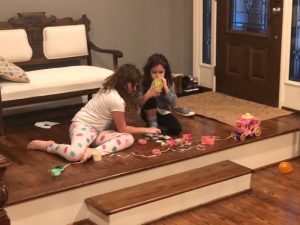 Lisa got to go with Mimi to a broadway show they have season tickets too


Of course when mommy got home she checked on our baby girls who were snug in their beds while daddy did homework

Sunday morning mommy had a great helper in the kitchen since Ivy said she wanted to pretend she was a mommy for a few hours. We played until it was church time then enjoyed a family lunch before coming back home to chill and play some more. We invited Mimi and the Rhoads over for dinner to enjoy a little time together this weekend.
Love this monkey and love that she loves to help


Always enjoy cooking with Mimi and Stacy and everyone enjoyed our breakfast for dinner


The boys enjoyed watching football


The girls played and got baths; they figured out how to watch TV while they were in the bath too


Love these monkeys and watching them grow


Sweet dreams my angels

What a marvelous Monday we enjoyed! Love that we could sleep late if we wanted; everyone was up before 8 though. Mommy and Ivy got some sweet snuggle time then mommy was blessed to snuggle both girlies until they came up with the idea to try to mimic the science experiment they saw on TV. Daddy got up after just after they finished their experiment so we had to do it one more time for him before he headed downstairs to do school work. Ivy delivered his breakfast to him then the girls made jewelry, watched TV, faceTimed Alicia, and played until we headed ice skating. Once mommy, Leia, and Ivy was skated out we came back home to fix lunch. Chris took a study break and joined us. Leia looked up how to make a volcano and that was one of our afternoon activities to keep us entertained along with making homemade ice-cream to enjoy on the cool day. The girlies did their piano practice and daily reading even thought they were out of school then we relaxed and played until it was time to take Ivy to gymnastics. Leia enjoyed not being drug along since daddy was home and they got to stay home to veg in front of the TV. Mommy got to stay and watch Ivy's whole practice. Ivy seemed to love it! She is so strong and flexible. It was fun to watch the skills she has gained since the last time mommy had gotten to watch her. We picked up dinner on the way home to enjoy a fun, family dinner before we got baths and prepared to go back to school the next morning.
Ivy and mommy got some one-on-one snuggle time while sissy and daddy slept in a little then she took her braids down for her hair to be extra wavy


The girls got the idea to do a science experiment after watching Mako Mermaids


After Chris got up they had to show him the cool experiment too


Then they moved onto jewelry making


Before we headed to go ice skating


The girlies wanted to make a volcano for their experiment so it looks more authentic so Leia googled it and found a you tube on how to make one and we gathered the materials needed


Then we enjoyed ice cream on the cold day. Leia took daddy some of the homemade strawberry yumminess we made too while he was doing homework


Ivy is such a joy! She is so playful and makes everyday fun and loves getting her picture taken 🙂


Lisa got to enjoy watching Ivy do gymnastics while Leia and Chris chilled at home