Friday Night was crafts, movie night, and horse riding since our lesson Saturday morning was cancelled due to storm predictions in the area overnight and into the morning hours.

Saturday we hung out at home with more craft and human horse rides until it stopped raining. Lisa and the girls went to Mimi's midday while chris watched the Master's Golf Tournament. Leia asked if she could spend the night so she stayed when we headed home for a game night with the Talley's.
That evening before they headed in Leia got to hold Austin Kate (Mimi's neighbor)


They enjoyed breakfast together with a sausage ball as big as a pancake


Leia helped Mimi put out bricks then baked a treat for Sunday lunch


We found a little turtle before dinner Saturday evening at our house so the littles had fun holding it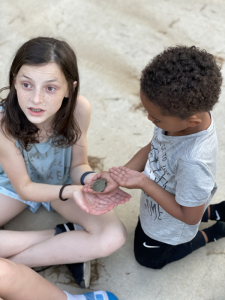 Mommy and Ivy went back to Mimi's Sunday morning; we were missing Leia. Mommy walked while the girls rode in the golf cart then when we got back to Mimi's house the Rhoads' were there for lunch so we had some sweet fellowship


Sunday afternoon, mommy washed the car and off the pollen under the porch while the girlies had some fun


Monday afternoon these girlies were back at the air-track slip-n-slide after school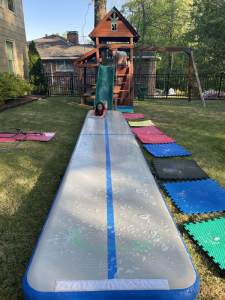 Tuesday night after horse back we enjoyed dinner outside and relaxed while the girls played.
We love spring nights when the pollen is not bad!