Christmas morning was an early one in our household! Leia was up and down throughout the night opening the door to check the time since we told her she could not wake us until at least 5 am. There was very little sleep for two of the four of us with the excitement and doors opening/closing. Yet, we know that as the girls get older the excitement dwindles and eventually we will be the ones waking them so will take the early Christmas mornings for now and drink a few extra cups of coffee to power us through the day. Although the lack of sleep did not make for a joyful time all morning or day but it is the Christmas kind of exhausted.
Ivy rushed out to the den before any of us could say anything. She was looking at the goods Santa left excited to start playing with her horse trailer, pondering what the wall desk was exactly, looking at Leia's backbend mat, and wanting to go outside but a little nervous since it was still dark out. Leia was patiently waiting on the go ahead as mommy walked back and asked if they knew Ivy was in the den. Leia rushed out too excited to see their gifts and surprises. Chris followed behind as it was early. Mommy and daddy got a cup of coffee and just watched as the girls played and thought about how early but what a sweet time it was with their excitement. Ivy braved the dark after about 40 minutes to find the basketball hoop she asked for out back; although, she did not play long with the chill of the coldest day of the season.
Deedee came up about 6 to join in the excitement. She went to get Grandpa get up about 6:30 for the girls to open their gifts from us all. Leia got to open her own gifts while Ivy opened hers. We loved watching their excitement and expressions opening each gift. After they had opened all their packages Leia started playing with her new toys while Ivy happily helped everyone else open their gifts too. We were not as quick opening gifts this year as we took our time then we all sat down for a breakfast together. The girls snuggled and rested a little before we headed to Mimi's mid morning.
The Rhoads arrived slightly ahead of us to Mimi's but we reminded us to take pictures again; thankful for the reminder. The Dobbs ladies started cooking brunch after pictures while the little ladies sorted presents. We all enjoyed brunch for lunch; one of Mark's favorite Christmas traditions. After the table was cleaned we all made our way to the den to open gifts. The four little ladies opened their gifts first as the adults sat and savored the moments. We opened our gifts slow and simply enjoyed the time.
That afternoon we had a low key afternoon. We all watched Hallmarks and sport games on the TV, Lisa played pool with Ivy, several of us played a few games of left, right, center dice game, a few of us went for a walk around the neighborhood, and Leia put her lego set together. We fixed appetizers that afternoon as people started getting hungry and continued enjoying the low key day simply fellowshipping and being together. Late that afternoon we went back home. The girls played tie up grandpa while mommy got her bath then we all watched a movie on Netflix, "Noel". As soon as it was over we all headed to bed since we had been up early and everyone seemed to be a special kind of Christmas tired.
Our house just the 4 of us
Ivy was the first one out to check out the goods Santa left, mommy grabbed Leia and she came in a flash


Enjoying coffee and a good view on this Christmas morning


Selfies with my girls


Ivy checked out the cookie plate to see how much Santa ate


Full blown play time in the house


DD and grandpa woke up to joined the fun


The love between sisters


Ivy helped them open their gifts too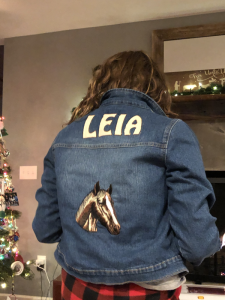 Ivy's note:
i was so so so so so so so so so so excited for the airpods i screamed a said Leia you did not want them!!!!!!!!!!!!!!!!!!!!!!!!!!!!!!!!!!!!!!!!!!!!!!!!!!!!!!!!!!!!!!!!!!!!!!!!!!!! Ivy got so excited for her cotton candy.

Our sweet Ivy gave hugs for thanks


Yummy breakfast


The girls were crashing after a early morning so rested up and played some more before heading to


We all made it to Mimi's and got some photo ops


Photo from two angles …. Sara wanted to be taller


After photo ops the Dobbs ladies cooked and then we had brunch


The girls were excited to open presents after we ate


Ivy said no one was playing with her and she was sad so Mommy played pool with Ivy


Game time


Ivy joined uncle Mark and Stacy on their second walk then mommy and daddy headed out too


Game time and snuggles


Evening fun before we all enjoyed a Christmas movie and headed to bed