The girls have been wanting to learn to ride horses and more about barn life. We found a stable within 30 minutes of our house recently and have been calling to try to get them into it. This week was the week the owner called us back and we found out that they had been closed due to COVID. However, the day she called us back she said they were having camp 3 evenings this week so we signed up to let the girls decide if they wanted to do it this fall or not. At camp they not only learn to ride but to take care of the horses and barn maintenance which is important to build a full appreciation of the sport.
At camp the first day, July 27th, they did stations and broke into two groups so they could ride some, do arts and crafts, and play on a slip-n-slide. The second day at camp they worked in the barn before heading to the arena to learn a little vaulting and riding bare back. The third day, they just rode but got to ride some without anyone holding onto the lead rope. Mommy took the girls the first two nights and daddy took them the third day since not only do the kids work at the ranch but the parents help out as well to share in the fun. We all learned that Chris worked at a ranch too when he was in high-school and apparently got offered a job when he took them. Momma thinks since daddy was that good he should be the one to take our horse loving girls to the barn the most. 😉
Day one at the First picture of Leia leading a horse while mommy filled out paperwork; thank you to Ivy for taking pictures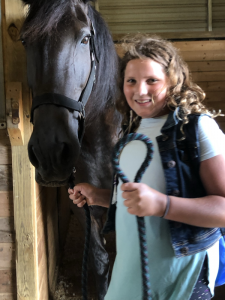 Ivy was the first one up on the horse though


They rode and cooled off with a slip-in-slide for fun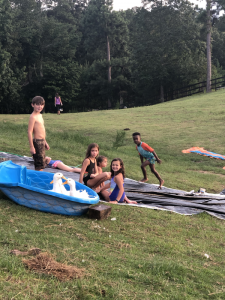 Mommy got to lead horses the whole time both groups learned to ride


All the girls were focused and having fun


The girls not only rode horses they also got to join in on building a tree house each day of camp


Our girls are loving the horses!

The girls created a horse chart after they got home to save money to buy their own horse
Umm, we told them there are monthly cost too

Day two with the horses started with barn maintenance


Cleaning the stalls was fun and good time to get to know other girls


Both girls are making sweet friends! Ivy asked me to take a picture for her of the 'pony squad', what these 4 called themselves after cleaning stalls together


Then they moved to learning to vault and riding bear back


Each girl got a chance to learn what they practiced on Hercules

Day three, there are no pictures … Dad took them
To be fair there are no pictures of dinner and pool time at Mimi's either and we all were there
The girlies did get to spend the night with Mimi too
Ivy mastered a back dive on Sunday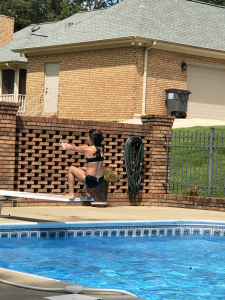 She is full of sass and makes life fun