Tuesday morning Chris took Lisa and Stacy to the airport bright and early at 5:15 to meet Mimi for our early flight. It was smooth sailing to Houston but we were delayed there for an hour. Fortunately, we only arrived a half-hour late thanks to kind winds. We arrived at the resort at about 11 am local time. We thought nothing of it that our room was not ready upon arrival but knew we had half a day to do something.

We found the concierge to try to get a plan for the trip together since we had very little planned out other than that Stacy had called a travel agent to book the resort/plane tickets and had us all spa treatments for Thursday and Lisa had booked a hot air balloon for Wednesday. And of course, we would be hiking nearby trails.

After a little discussion, we decided to go explore old town Scottsdale for the afternoon until our room was ready since it was nearby. However, before much exploration was going to be done we all needed to get some food in our bellies for energy! A list at the guest service counter suggested a couple of nearby lunch spots and we landed at Ivy and Olive. I am not sure if we were all just really hungry or if the food was really, really good but the server was also fabulous with great food suggestions. Lisa declared that we all should share meals to get more variety throughout the trip; it was a great decision! we shared bacon-wrapped dates, a Mediterranean salad, bacon-wrapped pork tenderloin, and a frozen chocolate bar for dessert. Once we had all filled our bellies we started exploring.

We walked around and looked in several shops, taking in the western views then hopped on a city trolly to get to different areas around town before finally calling an Uber to take us back to check-in and get a shower to wash the ickiness off. Mimi and Lisa went to the bellhop to get our luggage while Stacy went to get the keys. Unfortunately, we got a text instead to meet at the patio since our room still was not ready; with a note that the hotel gave $25 each to us at the bar. We still did not think much about the room not being ready even though it was past regular check-in time and sat there visiting, sipping our drinks, sharing a few appetizers, going back to the concierge to get more pamphlets to plan our trip out, and simply taking in the beauty of the mountain ranges everywhere we looked.

Lisa realized it had been almost two hours since we sat down and went to the front desk. We had been awake at this time close to 18 hours and still did not have a room and little sister had to get mean since we were still getting the run-a-round at the front desk. Turned out several rooms were flooded and they were trying to clean them enough to put guests in them. Lisa may have said it in a the southern way of "bless your heart" that we arrived at 11 am, it was 6 pm, and we still did not have a room … the poor front desk guy did not know what to say but we were blessed with an 'upgrade' to an updated suite for our patience and told they would cover all the bar tab no matter the cost, and gave us $200 resort credit. We promptly headed to our room for showers after a long day of travel then worked on securing a rental car for the remainder of the trip.

And we are off on our adventure


We arrived earlier than check in so headed for lunch and toasted to memories, family, and good times together


We questioned the sever when he suggested frozen chocolate bar but it did not disappoint


With full bellies we were off to start exploring


It was a town with ever store imaginable and old, western themed. Fun introduction to our first afternoon in AZ


We spent a couple hours at the bar with this amazing view but after leaving home almost 18 hours earlier we were ready for a shower


It was a nice room when we finally got it after Lisa had to "bless your heart" to the front desk attendant and we got an upgrade to a place larger than most NYC apartments
We walked in with a restroom to the right


and a huge den


There was two bedrooms


One for Mimi and Lisa with a private balcony


The other room was for Stacy with a private bathroom


Finally we made it to our room for the week!


Showers and FaceTiming back home was a great way to end our night

Wednesday morning was another early morning with our sunrise hot air balloon ride. We were up at 4:15, ready to leave, and starting to fret that our 4:50 request for a ride had not been picked up on Uber. Thankful close to 5 our request was picked up and we made it to our meeting point, Starbucks with enough time to grab a coffee and breakfast sandwich before hopping in the truck to chase the wind for the balloon launch.
Our pilot and chase car read up on what the meteorologist said about winds then used a scientific method of releasing a helium balloon to test wind speed and direction. They determined the spot they wanted to lift off from and unloaded the gear as we talked and got to know the couple that would be going up with us.
Our pilot Shaun got the balloon up to thirty-six hundred feet in the air, hovered the ground closely at times, hopped over power lines to make sure we caught the west wind and did not end up an hour away by car like several other balloon pilots that day. We ended traveling 5-7 miles from our launch location when we landed and it was peaceful floating through the air. After the ride, while they loaded everything back on the trailer, we enjoyed champagne and learned why hot air balloons and champagne go together; a tradition that dates back to the 1780's when hot air balloons first took flight.
The first manned hot air balloon flight took place on November 21st, 1783 in Paris, France and was flown by Jean-François Pilâtre de Rozier, a French chemistry and physics teacher, and François Laurent d'Arlandes, a French marquis and soldier. In the 18th century, hot air ballooning was a groundbreaking science. Because most had never heard of or seen a hot air balloon at the time, many onlookers were afraid of the "dragon-like" hot air balloons, and would often attack balloons with pitchforks. Hot air balloons were also unpopular with farmers as they were not fond of balloons landing in their fields and disturbing their crops. On one of the first successfully manned balloon flights, the passengers carried along a bottle of champagne to enjoy during the flight, but instead of actually drinking it, it was used as an offer of goodwill to the farmers whose field their balloon had landed in. The champagne convinced the farmers that the balloon was far from being a fierce dragon, and acted as an apology or peace offering for disturbing the land and animals grazing in the field. The champagne smoothed things over, and a tradition was born.
Today, upon landing, it remains a tradition with balloonists' around the world to offer champagne to passengers and recite the Balloonist's Prayer: "The winds have welcomed you with softness. The sun has blessed you with his warm hands. You have flown so well and so high, that God has joined you in your laughter and set you gently back again into the loving arms of mother earth."
Meeting our uber driver we got a great view of the resort sign lit up


What a beautiful sunrise


Setting the balloon 75 ft tall balloon up took a little work


A unique perspective looking down at the balloon


As soon as it was fully upright we all jumped in


There was amazing views


College of just a few


Blessed to experience this with a couple of my favorite ladies


To remove the heat from the balloon they popped the top so we could float down. There was an art to getting out and the gentleman with us hopped out early so Lisa almost took a second flight with out pilot


The Champagne toast after our ride

At only 8:30 in the morning, we were finished with one of our bucket list items and had had a great adventure and we're looking forward to the next one. The couple we met on the balloon ride drove us from the drop-off point, to pick up our rental to drive to Sedona for so to explore the red rocks since we were within a two-hour drive.

Our first stop was the Red Rock Ranger Station to figure out a good trail or two to hike. As we were walking towards the station we were simply in awe of the beauty and majesty of the mountains surrounding us. They looked different than the ones just a couple hours away. We looked at the Bell Rock, Courthouse Butte, others that we missed the name of before heading in to talk to one of the rangers to get more information. We told him we would like about a 3-mile hike that was not too strenuous since we had not brought our hiking boots or backpacks to carry much water so he suggested we hiked around Courthouse Butte by way of combining a few trails.

We ended up hiking on parts of the Bell Rock Vista Pathway, Big Park Loop, and Rector Trail for close to 4 miles. We only got off the trail once or twice so we thought that was pretty good. When we finished it was well past lunchtime so we drove up to Tlaquepaque since several people had mentioned that it was a cool area in Sedona.

We found that it was a lot of shopping and commercialized but found the Hideaway House to enjoy our favorite lunch/dinner during this whole trip with an amazing view of the Red Rocks. We all shared again for the win. We got a great spinach salad, took our servers suggestion to get a seasonal pizza, and brick chicken. We elected to skip dessert since we were all completely stuffed after the meal but it was so, so good.

Next on our agenda, per the suggestion of the ranger, was to drive up between the canyons towards Oak Creek see a different area than where we had hiked and shop where the natives set up a flea market which cut out the middle man. Unfortunately, there was road work and we sat in traffic for a little over 45 minutes so when we arrived the natives were starting to pack up but we did walk out to the lookout point to see 15 miles of the winding roads that we had driven up before hopping back in the car to go try to find the sunset spot he mentioned to us.

We are not sure if we found the spot but did stumble upon a river in our quest and were able to watch the red rock color change as the sun started to set before we all decided we could watch it as we were driving back to Scottsdale since we had a long day with a two hour drive in the dark in front of us.

Our rental car, we called big blue that drove us all around Sedona


Our path highlighted by the ranger and the rock we hiked all around for about 4 miles with amazing views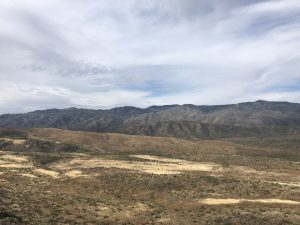 Tlaquepaque was a quaint little area with the best restaurant, Hideaway House


It was our favorite meal while we were on the trip. We got roasted peach and caramelized pancetta pizza and a yummy spinach salad with pancetta, grilled zucchini, candied pecans, goat cheese, and a pumpkin honey balsamic vinaigrette … going to try to make a knock off of it.


Plus, brick chicken too


The view was amazing which only added to the amazing food

Our drive up to Oak Canyon


Mimi and Stacy showing us the windy road we traveled


What a view

Hiking to a creek at the bottom of the mountain to see the sunset on the red rocks


We finished watching the sunset from the road as we were driving back to Scottsdale

Thursday morning was supposed to be our chill morning to sleep in and lounge around. However, our bodies were still on central time zone so we were all up before 6 am again. Having gone to bed without eating dinner we all woke up and decided to grab an early for breakfast.

We ended up at Butterfield's Pancake House. After having done so well sharing on this trip we forgot and each ordered our own; a mistake because the servings were huge and we wasted a lot of good food.

Afterward, we headed straight back to the resort to explore since we had spent little time there. We ended up hiking Mummy Mountain on the resort which was listed at a little over a mile but seemed much shorter. The trail was not as well beaten out as in Sedona but was marked with wooden stakes and we had the car in sight most of the hike.

We also stumbled upon a cool western area that looked abandoned after the hike too; we took advantage of the discovery and took a few photo ops before heading back to the resort lobby to rent bikes. They had a good route mapped out on the bikes and we followed it for the most part but we tracked it on Lisa's watch since we decided to explore a couple of other places too.

We rode for a little over ten miles. The first few were uphill which gave our legs a good workout. Once we were done with our ride we decided to have a leisure and relaxing afternoon.

We walked over to look at the pool and grab a snack before coming back to shower for our much-anticipated spa treatments. We all enjoyed the Swedish massages and sat and visited while waiting for our next treatment. Mimi was called back and then Lisa for their facials but unknowing to us there was a little confusion in the scheduling so Stacy did not get a facial. Instead, Stacy headed towards the steam room, sauna, and hot tub to cleanse impurities while she waited.

When Mimi and Lisa finished we were surprised Stacy had already showered and gotten ready so we quickly hopped in the shower to catch up and join her. That evening we went to dinner at Blanco for an authentic Mexican meal for our last night on vacation. On our way it started to sprinkle so, we could not sit on the patio but had a nice seat by the window and was promptly given chips and salsa and told our server would be there momentarily.

We watched several tables that came in after us get served drinks and debated leaving but decided to flag someone down to try to find out the server. Several minutes later we had drinks and had decided to order from the happy hour menu, which may have been a mistake. Needless to say, this was the least favorite meal during our trip. It was sprinkling when we finished and we did not have any other place we had planned to go so we headed back to the room to enjoy the extra-large room we'd been upgraded too and sip on wine before calling it a night.

Our view from the room


Good breakfast to fuel us for the day ahead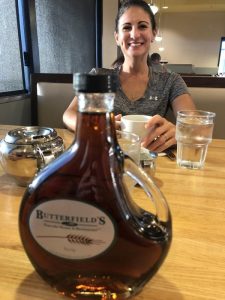 Hiking on our resort at Mummy Mountain to the end of the trail


We were fascinated by the Saguaro Cactus that reminded us of old western movies. We found out from locals that it takes 50 – 100 years to grow one arm or spear and are the share similarities with humans like that they are 98% water, have ribs that expand and contract for drought seasons, and have something similar to humans white blood count


Photo ops in the western town near the hiking trail


We explored the resort by foot a little more


Then we rented bikes for a nice 10 mile ride


Then we drove over to Camelback Mountain to explore a little of that area


We decided to get a appetizer to share by the pool and Stacy ate shrimp


The spa felt nice after all our hiking and activity

Friday morning we stayed true to our early wake-up calls. We were all up again by six, dressed and packed so we went up to the western area to watch the sunrise over the mountains before heading to Breakfast Club. We enjoyed a long breakfast lingering over our latte/coffee having learned our lesson from breakfast the day before and shared a Tinga Chicken Frittata and Steak and Egg Club plate. Both of them tasted great! We put this breakfast place on our list to visit again if we go back.
We still had a few hours before our flight and realized the only thing we had gotten for the girls back home were leather wristlets so started searching for a store to pick up a couple of other souvenirs but it was early in the morning and few stores were open so we decided to drive towards the airport to turn in the rental car and look for something there. There were not many shops in our terminal but we looked at the ones that were there then sit down to enjoy coffee and mimosas before we boarded our flight to head back to sweet home Alabama.
Heading to see one last sunrise


What a gorgeous sunrise on our last morning


As we were driving out of the resort Mimi spotted a rainbow


Our favorite breakfast at Breakfast Club


Lisa belly laughed as they were walking in Walmart for souvenirs, ultimately we found a couple in the airport


Waiting on our flight and one last selfie


Stacy's exploding water made us belly laugh on the way home