Monday was sweet snuggles on the coach while mom and dad worked


After work Ivy worked out with mommy

Tuesday the girls were up early to go to horse camp 6:30 – 11. Both mom and dad worked while they were there and was as productive as possible. Momma made banana bread that afternoon at Leia's request. The girls helped to deliver it to a couple of our senior neighbors that afternoon and and we all got to visit a few minutes with them too. Of course the girlies loved getting to see Scotty during the deliveries. That evening we played a family game of Catan; Ivy won for the first time. It was a great lesson since she cheered for everyone and hoped everyone got resources throughout the game and was always willing to trade even if it did not benefit her.

Wednesday morning, the girls started swim team (Leia) and dive team (Ivy). Chris had to go into the office all day and that afternoon momma had to go back to work so the girls chilled at the house for most the day.


Wednesday evening we went to the Rhoads' house for a delayed birthday celebration with uncle Mark since Sara had dance camp the day before and she wanted to be part of the celebration too.


These ladies were cray-cray blowing things in each others faces

Thursday, the girls did swim and dive again that morning. We all straightened up the house then they got to play/chill while mom and dad worked some more; wish we all got the summer off of work. But that afternoon we all went to support Ivy at her first dive competition. None of us were sure what to expect when we went but went with open minds. Very thankful, momma had grabbed a few snacks even though when she grabbed them she thought she was just weighing her purse down and they would not be ate. Three hours later, they were ate and Ivy was finally doing her dives. As soon as she finished diving and got her reward we headed for a very late dinner. But it was fun watching her do something she enjoyed and Leia decided she might try it too.


Sweet team and the best fan club for Ivy


Reward time, by this time Ivy was a little tired, hungry, and cold


These girls do amazing! Especially since they all just started and had 2 to 4 days of practice so far

Friday, both girls went to swim and dive; they were in the pool 7:45 until 10:30. We headed to get the Rhoads' girls afterwards then went to Mimi's house for Katie's 12th birthday party and make sure everything was set up. As soon as Katie's friends arrived at 1, they all were making a splash in the pool again. It was sweet watching the kids play, laugh, and have a good time together. Her friends left at 5 but our girlies were in the pool until close to 6 when we pulled them out to have dinner then head back home.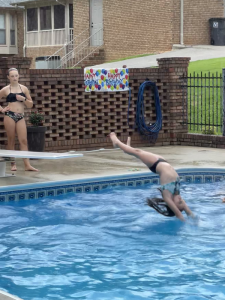 Saturday, we headed to Newnan to visit the Requena-Comfort's before they head to Spain for almost 2 months. We met them at the pool on the drive in and Grandpa/Deedee met us. We were just getting in when it thundered. The thunder ended up closing the pool but we ate at the club house then we headed to Grandpa and Deedee's to chill a little while before all meeting back up for dinner. The kids went back with Deedee and Grandpa while Lisa/Chris went to hang out with Kelly/Diego at their house. It was nice having some time to talk and fellowship. The kids were going to spend the night at Kelly/Diego's house but Ivy did not feel comfortable so the little ladies headed back to Grandpa/Deedee's with us to spend the night. We loved waking up and hearing them laugh, play, and use their imaginations Sunday.
Alicia had a scavenger hunt for her 10th birthday gifts then the girlies all enjoyed using her cotton candy maker she got


Daddy fell asleep


They continued sugaring up and playing games


Dinner with the 10 of us…the only picture we got was the couple selfies Diego clicked with the little girls but we all had a good time


Little ladies enjoyed breakfast


Morning fun

We headed back home Sunday midday. On the way Chris said he was not feeling great and had a headache so we took him home then escaped to Mimi's so he could have a quiet house. There was a impromptu party for Katie's birthday with family we joined in on too.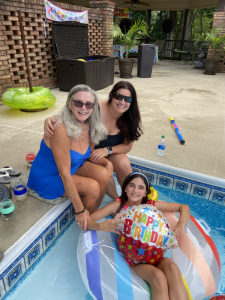 Sunday evening Ivy asked could she cook dinner all by herself for everyone. Of course we said sure and let us know if you have any questions or want to call in an assistant. She did amazing! She cooked it all by herself, set the table, and did most the cleanup. Maybe we need to start where the girls cook once a week each