Easter and Christmas are two of our family holidays. Christmas is when we celebrate Jesus coming to earth for 33 short years to teach about his Father and change the world. Easter is the day He created a way for us to come to God and live in Heaven when our time is done on this earth. These two holidays both represent a way God's plan allows us live for eternity in Heaven. Thank you Lord for your grace and mercy for each of these days. Jesus, thank you for your obedience to your Father.
Last year, Easter was the first major holiday that was impacted in the Covid pandemic. Many families did not gather together. Although our little family still elected to get together with Mimi and the Rhoads', we did not have Kristi and Stephanie with their families over as we traditionally do. This year though, we were able to resume our family tradition and we all got to enjoy lunch, egg hunts, and sweet fellowship together. Of course, we missed our dads that God called home but so thankful for this day knowing that we will see them again.
Not only did our family return to a little normalize, looking on FaceBook it seemed several other families did too. Facebook was flooded with of families reuniting, some of which mentioned it was the first time seeing each other in over a year. There was so much joy captured in the pictures of family reuniting. Thinking about the reunions got me thinking about the reunions we will have with brothers and sisters that have in Heaven, all because of the holiday that we celebrated today. Jesus is Alive!
The girls were excited to open their Easter baskets first thing
Ivy was super excited about her new apple watch
Leia liked her and her Popitz
Ivy celebrated and danced all over the house
Yummy homemade cinnamon rolls for breakfast
Before we left home we took pics for a neighbor so got a quick one of us fours too
Mommy had a favorite egg … remembering she thought this incase we get eye rolls when she is a teenager
Of course we took the opportunity for photo ops at Mimi's when we arrived too
Sweet Mimi gave the girlies their Easter basket too
Love that Stacy always makes sure we get a group photo
It might be chaos sometimes with so may strong willed individuals
But thankful for each person in the picuture and that we get to call them not only family but a friend
Food was yummy but the fellowship was the best! Thankful we all were able to get together this year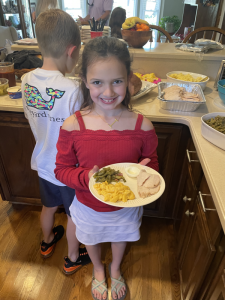 Egg hunt fun … Sweet Leia decided this year she wanted to hide them with the grownups and help the littles find them
Grown ups found a shady spot
Ivy loves little ones!!!
Evening walk with my girl after we got home. Loved she said, "mommy, we walk the same". Mommy loves walking the same with her and tries to match her pace and speed so we can go together and mommy can lead by example.